Storm Daniel 'medicane' turns on Libya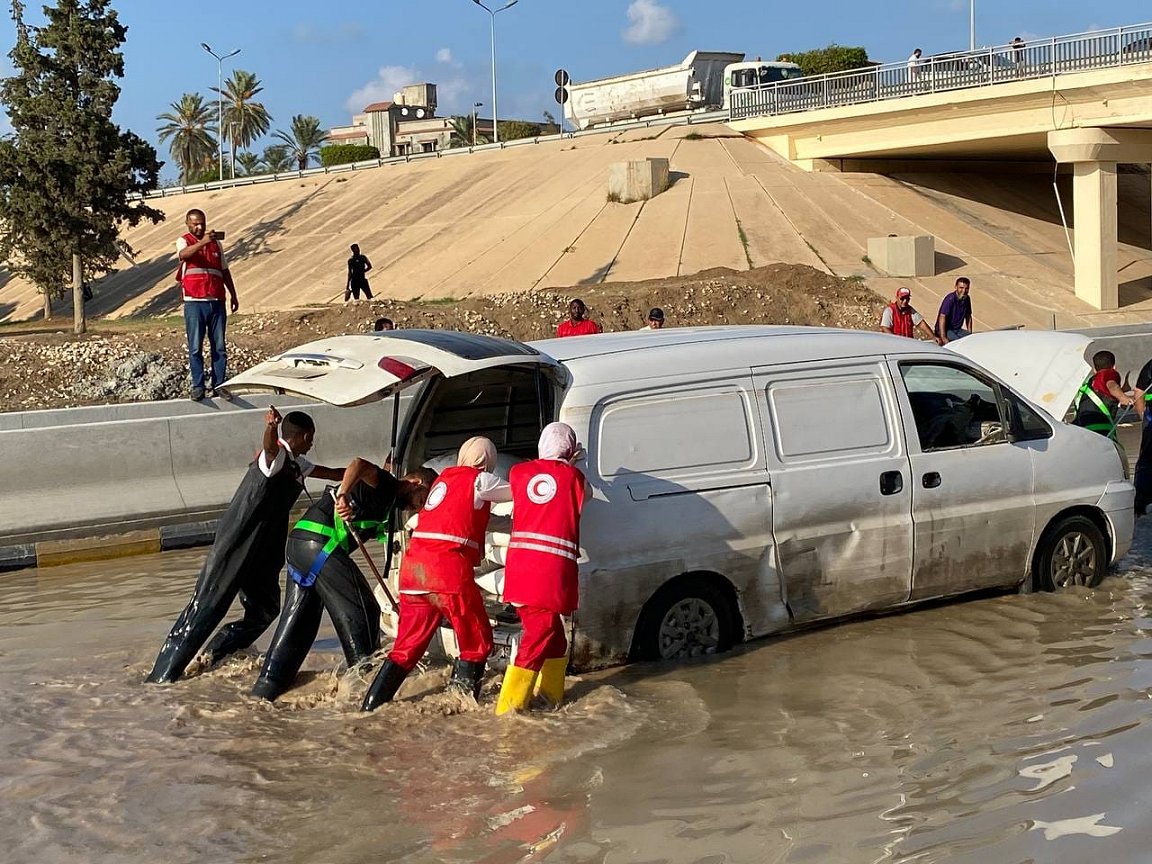 13 September 2023
By the Climate Centre
(Since this story was written, the IFRC Thursday announced an emergency appeal for 10 million Swiss francs to scale up the Libyan Red Crescent's relief efforts in response to Storm Daniel. The appeal says flash floods have devastated north-eastern Libya, with complete or partial destruction of houses, public institutions, power and communications networks, water and sewage systems. Nearly 1.6 million people have been directly affected, with over 5,000 people presumed dead and 10,000 still missing. In addition, over 7,000 families are reported to be stranded and nearly 30,000 people displaced.)

Storm Daniel – the intense Mediterranean hurricane or "medicane" – made landfall in Libya Sunday, wreaking what local authorities there have called a "catastrophic and unprecedented" flood disaster that's claimed thousands of lives and left many more missing.  
Three Libyan Red Crescent volunteers died as they attempted to assist people in the path of the torrents unleashed by the downpours and subsequent collapse of two dams that swept away entire neighbourhoods.
The north-eastern coastal city of Derna has been very badly hit, and also Benghazi, Tobruk, Toukra, Talmeitha, Almarj, Taknes, al-Owailia, Bayada, Albayda, Shahhat and Sousa, the IFRC says.
Communication lines and power networks are down in Derna and elsewhere, and pictures shared by the Libyan Red Crescent show submerged cars, collapsed buildings, and tsunami-like floodwater smashing through urban areas.
Red Crescent teams and volunteers were the first on the ground, evacuating people and providing first aid and search and rescue.
Deadliest, costliest?

The Libyan Red Crescent mobilized ahead of Daniel's landfall and activated its emergency room at HQ level, alerting branches in the storm's forecast path and gathering equipment and stocks.
"In front of this large-scale disaster we will need support of everyone and not just now but in the months to come," the IFRC's Tommaso Della Longa told UK Channel 4 News, speaking from Geneva.

"We are talking about thousands of people who will need food, shelter, water."

Daniel is believed to be the deadliest and costliest Mediterranean cyclone in the modern record.
ICRC Vice President Gilles Carbonnier today described the situation in Libya as "extremely dire".
The International Committee had been working in Libya through the years of conflict and had stocks in warehouses that it was able to quickly bring into play this week.
'Compounded crises'

Climate Centre scientist Liz Stephens said yesterday: "Medicanes such as Storm Daniel are relatively rare and are more frequent in the western Mediterranean than over the arid Libyan coastline.

"It is more difficult to understand the potential for catastrophic extreme events in an arid climate, where even moderate rainfall events are few and far between; this makes it a challenge to design and build resilient infrastructure.

"Climate change is thought to be increasing the frequency of the strongest medicanes, and we're confident it's supercharging the rainfall associated with such storms."
The danger Storm Daniel posed to Libya was forecast as early as last Wednesday: "This weekend and into the start of next week, it's across Libya where we could see the impacts of some strong winds, high seas, and some very heavy rainfall too," BBC forecaster Matt Taylor said then.
Storm Daniel has added "another layer of complexity to compounded crises" in Libya, the IFRC adds.
Libyan Red Crescent teams and volunteers (pictured here) were the first on the ground this week, evacuating people and providing first aid and search and rescue after Storm Daniel made landfall, triggering a "catastrophic and unprecedented" flood disaster. (Photo: Libyan Red Crescent via IFRC)