IFRC warns of flood danger in Europe with sudden thaw and heavy rain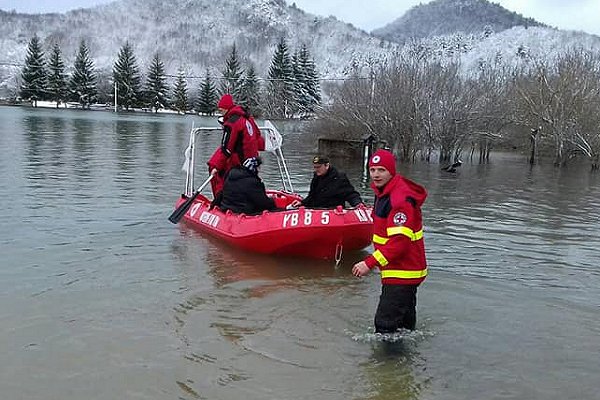 26 March 2018
(This story appeared first on the IFRC website yesterday. In 2016 scientists concluded that climate change had played an important role in the heavy rains that caused major disruption in France in May that year, while in January the River Seine again rose almost to its 2016 peak.)
The IFRC is warning tens of thousands of people across the Balkans and Eastern Europe could be at risk from flooding as extreme weather is set to worsen this week.
A sudden rise in temperature has seen snow and ice thaw rapidly, swelling rivers and lakes. 
This combined with heavy rain has caused flooding across swathes of Europe including Albania, Bulgaria, Croatia, Serbia, Hungary, Montenegro and Romania.
In Eastern Europe, Belarus was the hardest hit with more than 50,000 people affected and hundreds of homes submerged. Kazakhstan has also seen flooding in the east.
Hundreds of Red Cross and Red Crescent volunteers have been helping with evacuations and providing emergency supplies like food and drinking water for thousands of people in flood-hit towns and villages.
'Weather patterns'
IFRC Regional Director for Europe, Simon Missiri, said: "Given the forecast for the next few days and weeks, we're expecting tough times ahead that could put thousands more people in danger.
"We have already seen weather patterns change rapidly – from snow and freezing temperatures to heavy rain and rapidly melting ice – within the space of a few days; this looks set to continue.
"Thousands of people have already seen homes swamped with water and villages have been completely cut off in some cases."
Water dumped from hydroelectric power plant reservoirs in Albania to protect the integrity of dams is causing levels in lakes and basins to rise, causing concern there and in neighbouring Montenegro. 
Red Cross emergency teams are working with emergency services in Montenegro and preparing for major flooding.
Croatia has been among the hardest hit by floods so far, with heavy rain causing seven landslides in the last two weeks which destroyed homes and left roads blocked. 
More than 200 Croatian Red Cross volunteers and staff have been responding, with specialist boat teams also sent to villages left marooned.
Red Cross aquatic teams like this one are working across large parts of Eastern Europe to assist people cut off by floods that may get worse this week. (Photo: IFRC Europe)