Climate change undermines most of the sustainable development goals – WMO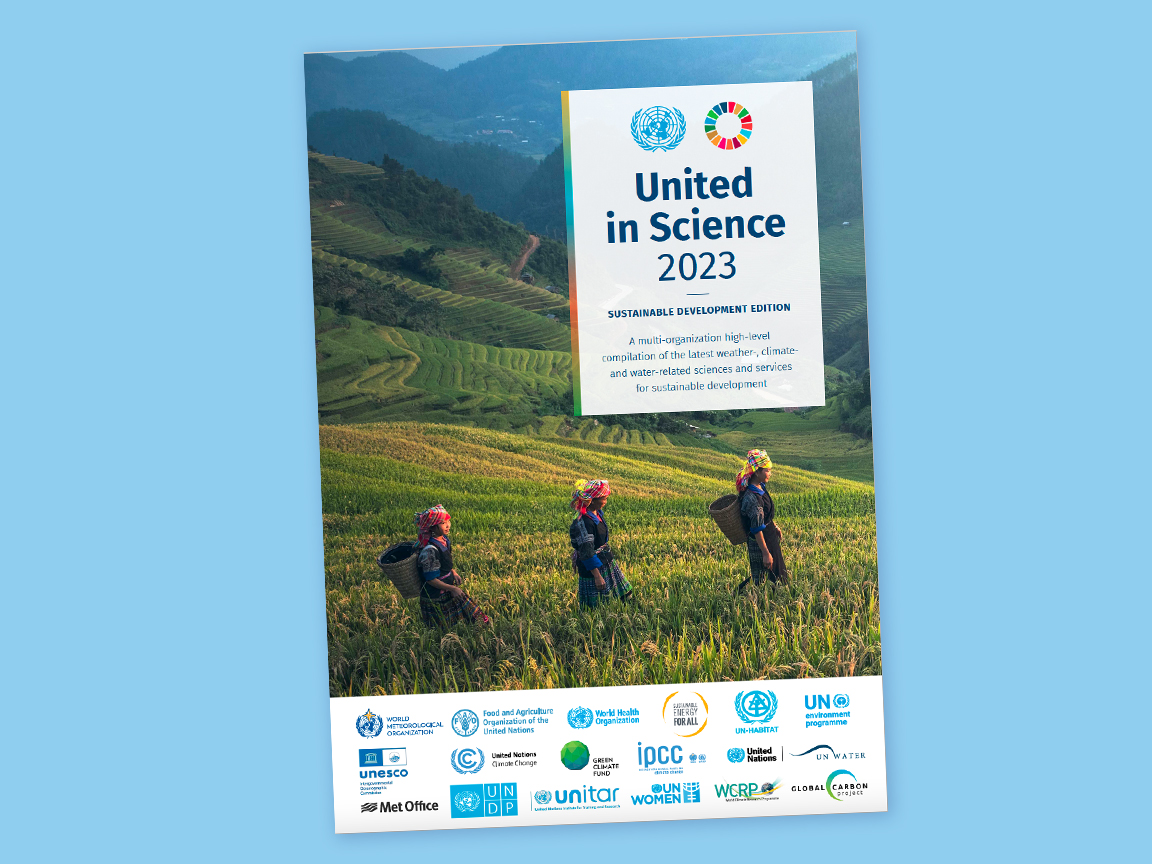 14 September 2023
The world is far from meeting its climate goals and this is seriously undermining efforts to tackle hunger, poverty and ill-health, and improve access to clean water and energy, as well as many other aspects of sustainable development.

This is the conclusion of a new multi-agency report coordinated by the World Meteorological Organization, issued today ahead of relevant meetings at the UN General Assembly in New York that started last week.
The United in Science report examines the impact of climate change and extreme weather on the sustainable development goals – particularly Goals 2, 3, 6, 7, 11, 13, 14 and 17 – combining input from nearly 20 organizations.
It says emissions actually increased by 1 per cent globally in 2022 compared to 2021, but to limit warming to well below 2°C under Paris they must be reduced by at least 30 per cent by 2030, with the world approaching net zero by 2050. "This will require large-scale, rapid and systemic transformations," a WMO press release said today.
United in Science "illustrates how weather, climate and water-related sciences can advance aims such as food and water security, clean energy, better health, sustainable oceans and resilient cities," it adds.
'Ground-breaking advances like high-resolution climate modelling, AI, and nowcasting can catalyse transformation to achieve the SDGs'
UN Secretary-General António Guterres writes in a foreword: "Science is central to solutions [on climate]. It is widely understood that weather, climate, and water-related sciences provide the underpinnings for climate action. But it is less recognized how these sciences can supercharge progress on the SDGs across the board."
The report shows, for example, how weather predictions help boost food production and move closer to zero hunger. Integrating epidemiology and climate information also helps understand and anticipate those diseases sensitive to climate, while early-warning systems help to reduce poverty by giving people a chance to limit the impacts of extreme weather.

"The need for science and solutions is more urgent than ever," the press release adds.
WMO Secretary-General Petteri Taalas said today: "At this pivotal moment in history, the halfway mark to achieving the SDGs, the science community stands united in the effort to achieve prosperity for people and the planet.
"Ground-breaking scientific and technological advances, such as high-resolution climate modelling, artificial intelligence and nowcasting can catalyze transformation to achieve the SDGs."
As well as specific messages on the SDGs individually, United in Science says the recent increase in emissions "was primarily driven by growth in oil use as the aviation sector rebounded" after Covid: "Preliminary estimates shows that global fossil CO2 emissions in January to June 2023 were 0.3 per cent above the same period in 2022."
It is now all-but certain ("a 98 per cent chance") that one of the next five years will be the warmest on record, according to the WMO, and it quotes the IPCC forecast that long-term warming could reach 1.5°C in the early 2030s.
The United in Science report systematically examining the impact of climate change and extreme weather on the SDGs was published by the WMO today.