Climate impacts could displace 140m people by 2050 without 'concerted global action', says World Bank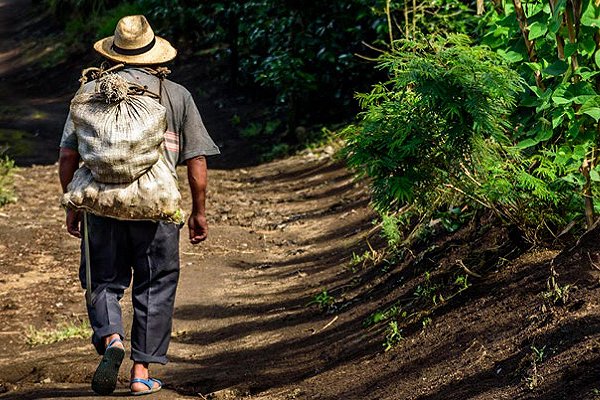 23 March 2018
It will take concerted global action that includes cutting greenhouse gas emissions and better development planning to ward off a worst-case scenario that could see climate impacts displace as many as 140 million people within their own borders by 2050.
They will be forced to move from increasingly unviable areas by water scarcity, failing crops, rising sea-levels and storm surges.
These are among the chief conclusions of a report from the World Bank Group released on Monday, Groundswell – Preparing for Internal Climate Migration, that focuses on "the nexus between slow-onset climate change impacts, internal migration patterns and development in…Sub-Saharan Africa, South Asia, and Latin America."
Internal climate migrants largely heading for urban areas would be added to the millions of people already moving for political or other reasons, the report warns. 
                                                  'That doesn't have to be the future'
"We have a small window now, before the effects of climate change deepen, to prepare the ground for this new reality," said World Bank CEO Kristalina Georgieva (who was European Commissioner for Humanitarian Aid and Civil Protection from 2010 to 2014).
"Steps cities take to cope with the upward trend of arrivals from rural areas and to improve opportunities for education, training and jobs will pay long-term dividends."
World Bank researchers and their academic partners modelled the potential scale of internal climate migration, comparing pessimistic (high emissions, unequal development) to more climate-friendly scenarios, and applying various sets of data to a 14-square-kilometre grid maps to predict the likely movement of people.
This approach identified hotspots of both inward and outward migration.
Tensions and conflict?
They believe, however, that with such concerted action the worst-case scenario could be reduced by as much as 80 per cent; they also emphasize the importance of investing in analytical tools and data to understand trends in migration.
"Without the right planning and support, people migrating from rural areas into cities could be facing new and even more dangerous risks," said the report's team lead, Kanta Kumari Rigaud.
"We could see increased tensions and conflict as a result of pressure on scarce resources. But that doesn't have to be the future."
At last month's World Urban Forum in Kuala Lumpur, the ICRC's Regional Water and Habitat Coordinator for Asia-Pacific, Jean Marc Zbinden, said an adequate response to internal displacement in urban settings must take into account the impact of displacement on host communities and the city as a whole.
A Central American farmer amid his crops – but for how much longer? One photo used by the World Bank to illustrate its new report on climate and migration. It quotes a study of regions that are already dry and getting drier, with more frequent and intense heat events. "This pattern is likely to affect Ethiopia and Mexico, which have extensive drylands," it says. "Climate change is likely to undermine food security through decreased crop yields and increasing risk of crop failure caused by drought." (Photo: World Bank)