IFRC: Cox's Bazar residents acutely vulnerable as monsoon season approaches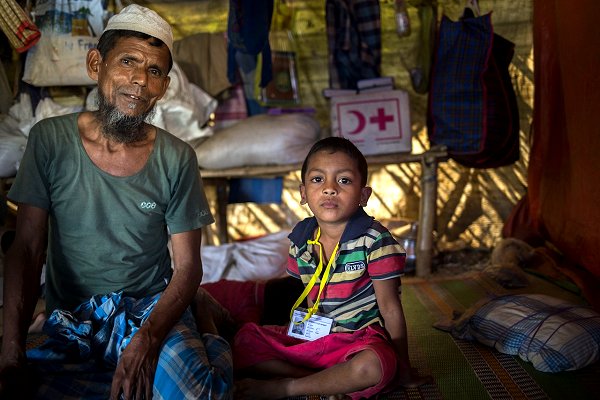 15 March 2018
(This story appeared first on the IFRC news site on Friday, together with other photos from Cox's Bazar by Jess Letch, A.J. Ghani and Nidhi Dutt.)
Thousands of people from Rakhine state will soon be exposed to cyclones and monsoon rains in Bangladesh. And their makeshift homes, perched precariously a top sandy hills, and across steep valleys, are not ready.
Even before the cyclone and monsoon seasons arrive, there is serious erosion and land slippage under the stress of so many shelters and people now crammed into the region – threatening the safety and lives of people already so vulnerable.
The coming monsoon and cyclone seasons or a disease outbreak could trigger a disaster within a disaster for both displaced families and the host community.
We're working with volunteers from the displaced and host communities to build people's self-reliance and food security, promote hygiene and prepare, for example by training people to brace their shelters for the expected high winds and rain.
Our contingency plans aim to ensure we continue to meet the basic needs of children and adults, even during bad weather or a disease outbreak. We're pre-positioning emergency stocks and heavy-lifting machinery.
Rainfall
Preparations are under way to secure the field hospital for the expected monsoon and cyclones so it continues to provide much needed medical care.
Up to a third of the settlement area could be flooded and more than 85,000 refugees could lose their shelters; another 23,000 living on steep slopes are at risk of landslides, according to an inter-agency analysis of the geography of the Kutapalong and Balukhali settlement areas.
Bangladesh is one of the most vulnerable countries to the impact of climate change, and scientists predict global warming will bring more floods, and stronger cyclones.
The regional outlook for the summer monsoon season is expected mid-April. But the steepness of the slopes and overcrowding in the temporary settlements mean the level of vulnerability is acute regardless of rainfall levels.
Nur Alam and his 4-year-old grandson, Ibrahim, have been living in this tent for months in Moinnerghona camp, where everyone is helping each other as best they can. (Photo: IFRC)