On the next frontier of research: IPCC cities conference draws mayors, business, experts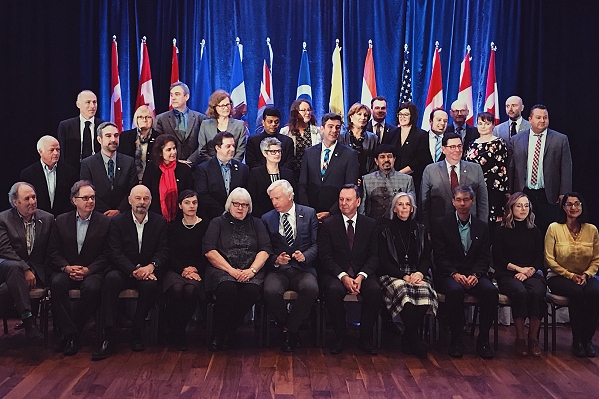 8 March 2018
The three-day Cities and Climate Change Science Conference that aimed to "inspire the next frontier of research focused on the science of cities and climate change" ended yesterday in the Canadian city of Edmonton, the Alberta provincal capital.
A closing statement detailed how ten leading urban and scientific organizations will support implementation of the global research agenda on cities and climate.
It laid out commitments to contribute to future assessments by the Intergovernmental Panel on Climate Change (IPCC), stimulate relevant research, encourage action on climate in cities based on science and evidence, and help researchers, policy-makers and practitioners work together.
The CitiesIPCC conference had "broken down the barriers between science, practice and policy," IPCC author Debra Roberts told a closing press conference.
"We've invited people 'into' science and we've also invited science to engage with people," said Dr Roberts, who leads the Sustainable and Resilient City Initiatives Unit of the Ethekwini municipality in Durban, South Africa, and wrote on cities in the IPCC's fifth assessment.
"For the first time ever in a long career bridging these different fields, I've heard the science humanized, with a strong concern for informality, for vulnerability, for exclusion, for difficult politics, for changing institutions, for money."
Informal settlements
A side-event facilitated by the Climate Centre with the C40 network and the Urban Climate Change Research Network centred on expanding the evidence base available to the IPCC by promoting collaboration by cities with knowledge centres like universities and disseminating success stories on adaptation, as well as advocating for involvement in planning of people living in informal settlements.
The IPCC is currently in the report cycle for its sixth assessment of the global climate, or 'AR6', to be finalized in 2022 in time for the first UNFCCC global stocktake the following year of the Paris agreement.
A paper by the Climate Centre's D&C Days partners, the UK-based International Institute for Environment and Development, and specially commissioned for the conference said one of the greatest adaptation challenges was building resilience for the estimated billion people living in informal settlements – many of which were at high risk from floods and landslides.
At its CitiesIPCC session, entitled 'Research Priorities and Multisectoral Collaborations Needed to Support the Most Vulnerable People in Cities' and attended by some 50 experts, the Climate Centre also argued that small- and medium-sized cities faced special challenges that AR6 needs to address to improve the management of climate risks.
Floods and wildfires
The Climate Centre's urban specialist, Julie Arrighi, said it was also important to factor in cities in conflict-affected regions where there was high vulnerability, with climate acting as a threat multiplier but also with great potential for rebuilding.
The conference was opened Monday by Edmonton Mayor Don Iveson and (respectively) the provincial and federal environment ministers, Shannon Phillips and Catherine McKenna, who said major floods and wildfires in Alberta showed extreme-weather events "are happening more often in our own backyards".
She added that jurisdictions other than states were now adding their weight to the commitments behind Paris: "You're seeing business across the world, and you're also seeing cities."
"Why are cities so critical? Because cities account for up to 70 per cent of emissions."
At last month's World Urban Forum in Kuala Lumpur, Red Cross Red Crescent specialists argued that disasters, climate change and conflicts were felt most acutely in cities that are often grew rapidly without proper planning.
Photo: City mayors and experts from all over the world gathered in Edmonton, Alberta, this week to address climate change in urban contexts – group photo tweeted by the city administration's environmental staff. (Photo: @YEGclimate via Twitter)