Red Cross in Europe urges people to check on neighbours as freeze threatens elderly, homeless and isolated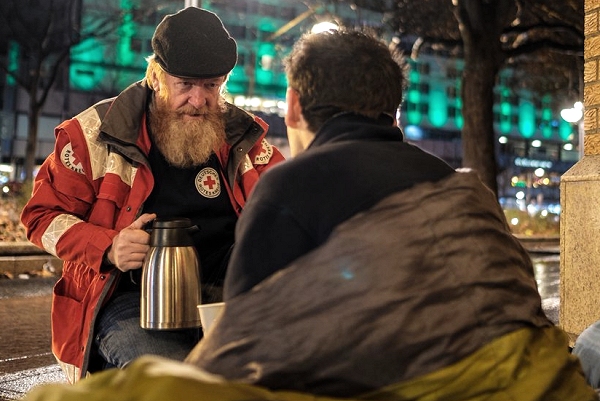 27 February 2018
(A press release, including media contacts, on the Red Cross response to the European cold wave appeared earlier today on the IFRC news site.)
The IFRC today called on people to check on neighbours, relatives and friends who could be at risk as freezing weather grips much of Europe.
"We are calling on the public to help us protect people who could be in danger – that could be an elderly neighbour, a young family, someone you know who's ill," said IFRC Regional Director for Europe, Simon Missiri.
"It's crucial communities come together and work closely to stay safe – just knocking on someone's door to check they have everything they need can make a huge difference.
"It could even be the difference between life and death."
Heated tents
Red Cross emergency teams are running shelters, providing hot food, blankets and medical treatment for thousands of people across Europe.
Volunteers from Belarus to Britain are on the ground after snow carpeted swathes of the continent and temperatures plummeted to almost -30°C in some places.
The IFRC has also issued advice to help people stay safe in the winter.
* The Red Cross in Belgium is staffing shelters for hundreds of homeless people, while in southern Belarus heated tents have been set up to protect stranded motorists.
* In France, the Red Cross is appealing to the public for more than 10,000 blankets and in Poland, an emergency team in Warsaw is helping in a rest centre.
* The Red Cross of Serbia is running a homeless shelter close to the Hungarian border.
* In Germany, Hungary, Italy and Spain, Red Cross volunteers are carrying out street patrols to provide hot drinks and food to homeless people.
* In Croatia, teams have been digging out homes from the snow and providing health care, medication and emergency supplies.
The end of the Northern winter is seeing "rare but not unprecedented" weather conditions, with the extended cold spell in much of Europe alongside exceptionally high temperatures in the Arctic, the World Meteorological Organization (WMO) – an IFRC partner agency – said at the end of last week (full details).
Sea ice
A WMO regional advisory, valid from 20 February, said that "significantly below-normal temperatures…at least for this and the next 2-3 weeks [are] expected for most of Europe."
The coldest days were expected this week; at worst, it could be as much as ten degrees colder than normal in Belarus, Poland, Russia and Ukraine.
"Daily minimum temperatures are expected to be below 0°C even in the south" of Europe, the WMO says. Frost could freeze early crops and fruits and pose "a risk [to] life for vulnerable people exposed to the cold."
A separate WMO advisory on Friday also said that "significantly above-normal precipitation for the next two weeks is expected for southern Europe…with locally heavy precipitation, wind gusts, flooding and in higher altitudes with snow, especially in the Balkans."
Meanwhile, WMO add, "unusually high temperatures" in the Arctic were of "particular concern because Arctic sea ice extent in January was the lowest on record and there are fears that the sea ice minimum in March (after the Arctic winter) may again be a new low."
German Red Cross volunteers in Berlin this week assisting homeless people facing temperatures well below zero with hot food and drinks. (Photo: DRK via IFRC)