As Cyclone Gita heads for New Caledonia, Red Cross hails 'crafty evacuation plan' that saved Fijians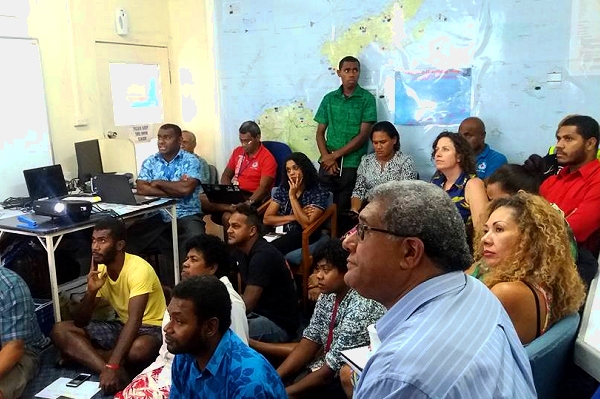 14 February 2018
(This story appeared first earlier today in the New Zealand Herald. It has been edited slightly here for length only. IFRC media contacts for the Red Cross response to Gita are tweeted here.)
A crafty evacuation plan on a set of tiny Fijian islands could be responsible for no lives being lost in Cyclone Gita.
The category 4 cyclone swept over Fiji last night. The low-lying atolls of Ono-i-Lau and Vatoa, were directly in the cyclone's path and received the most damage.
The New Zealand government has more than doubled the funding allocated for the response to the cyclone.
Tonight, Foreign Affairs Minister Winston Peters said New Zealand would contribute a further NZ$ 1.5 million bringing the total to NZ$ 2.25m.
'You can always rebuild a house,
but you can't bring someone back to life'
Three homes were destroyed and an unknown number of buildings had some damage on Ono-i-Lau and Vatoa. No injuries have been reported.
Fiji Red Cross secretary general Filipe Nainoca was happy with the result. He said if it wasn't for the evacuation plan the outcome would have been far worse.
"If there was no plan, lives could have been lost.
"Preparedness works. Having the communities have a plan and understand the dangers and knowledge works. This is something we must continue to do in Fiji.
"You can always rebuild a house, but you can't bring someone back to life."
Nainoca said weather information was communicated through intermittent radio announcements.
Infrastructure
People were told where evacuation centres were. By 9 p.m. on Monday night people on the two islands were spread between five schools and community halls being used as evacuation centres.
The plan had come from the commissioner of Fiji's Eastern Division.
An assessment team made up of Red Cross personnel and people appointed by the Government will set out to the worst-hit islands as soon as weather allows travel by boat.
Nainoca expected they would leave either tomorrow or the next day and spend about a week visiting people and surveying the damage.
The Eastern Division commissioner would then make a decision on who is responsible for the cost of the damage, Nainoca said.
Looking forward, infrastructure needed to be strengthened to weather cyclones better, Nainoca said.
"There's nothing you can do about the weather, but you can strengthen the homes."
Dengue?
Meanwhile Tonga is in the midst of the mop-up after Cyclone Gita destroyed homes, flattened government buildings and devastated churches.
Reports indicate about 50,000 people or almost 70 per cent of Tonga's population have been affected, a third of whom are children.
Oxfam's country director for Tonga Jane Foster said water supplies across the main island of Tongatapu sustained significant damage, which brings with it the risk of further outbreaks of waterborne diseases.
"The impact of this severe storm will be felt on many people's livelihoods for a long time to come.
"There is a real risk of a second disaster from water and mosquito-borne illnesses like dengue," she said.
Cyclone Gita is moving away slowly from the Fiji area but will come very close to Noumea, New Caledonia and southern parts of Vanuatu, a WeatherWatch spokesperson reported.
It was looking more likely the cyclone would hit New Zealand with each passing day, the spokesperson predicted.
Disaster managers and other personnel get a briefing on Cyclone Gita on Monday at Fiji Red Cross HQ. Secretary-General Filipe Nainoca is in the foreground with glasses. Last year he told a workshop at the UN climate talks in Bonn that Fijians have a neat way of summing up the climate impacts they and other Pacific islanders face: "Higher than before, bigger than before." (Photo: Fiji Red Cross via Facebook)