At World Urban Forum in Kuala Lumpur, Movement calls for 'humanized recovery' from disasters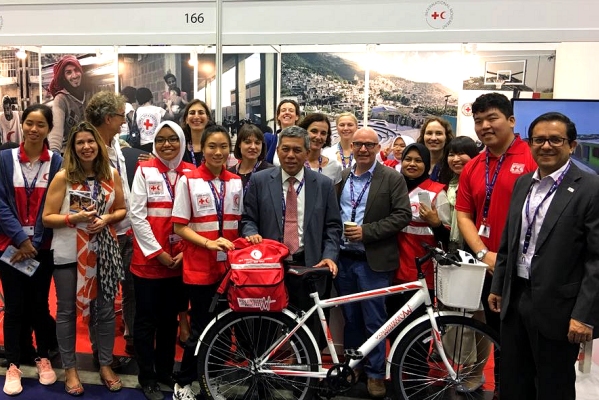 13 February 2018
(A version of this story appeared first earlier today on the IFRC news site.)
The ninth session of the World Urban Forum (WUF9) Sunday heard a call from the International Red Cross and Red Crescent Movement for greater accountability after disasters that may leave survivors bereaved and struggling to find shelter, food and water.
Movement specialists believe disasters, climate change and conflicts are felt most acutely in cities that are often growing rapidly without proper planning, and are calling for increased investment in disaster risk reduction (DRR).
"Building back better without accountability to the people we serve harms human dignity," Xavier Castellanos, IFRC Regional Director in Asia-Pacific, told a special session of WUF9 in Kuala Lumpur (photo, at far right).
Better policy-making and planning are needed to humanize recovery, he said, along with more investment in DRR, climate adaptation and greater engagement with communities affected by disaster.
                              'Building back better without accountability
                              harms human dignity'
Innovation is about promoting climate-sensitive buildings when building back better: In the Philippines, the IFRC builds back better with a smaller carbon footprint, providing solar panels through a community-integrated approach, said Heather Fehr, DRR Adviser for British Red Cross during another special session on innovative approaches to settlements for displaced people.
When talking about displacement in cities affected by conflict, Isabelle Barras, Head of the IFRC Regional Delegation in Malaysia, said it is necessary to go beyond emergency relief and include long-term perspectives to address the needs of displaced people.
She said in cities, structural, area-based interventions must be combined and balanced with tailor-made solutions; examples include complementarity and partnerships with local actors to better address needs.
This was echoed by ICRC's Regional Water and Habitat Coordinator, Jean Marc Zbinden, who said an adequate response to internal displacement in urban settings must take into account the impact of displacement on host communities and the city as a whole.
During the Movement side-event 'New frontiers for Humanitarians in Cities', Ela Serdaroglu, leading the IFRC shelter team, stressed the importance of coordination after a crisis with a wide range of partners to foster sustainable recovery – from addressing land issues to inclusive neighbourhoods and safe spaces.
Epidemics
Xavier Castellanos said trying to rebuild without access to critical information about disaster risks is as irresponsible as causing new risk.
Good information, however, would mitigate risks, increase disaster preparedness and improve response capacity in the most exposed and vulnerable areas, he said.
The IFRC – jointly leading the global shelter cluster with the UN refugee agency – is also calling for better preparedness and response to epidemics for which cities can act as multipliers, especially through early warning and rapid response in high-risk communities.
The World Urban Forum is the world's premier conference on urban issues; the meeting in Kuala Lumpur is the first to focus on implementing the New Urban Agenda adopted at the 2016 Habitat III conference in Quito, Ecuador.
As part of the shaping of that agenda, the IFRC and ICRC together emphasized the impacts of disasters and crises on the most vulnerable urban communities while National Societies also engaged in relevant global initiatives that included the Partnership on Urban Disaster Risk Reduction and Management and the Global Alliance for Urban Crises.
Movement engagement at WUF9 included an exhibition profiling its work in urban recovery, and with the Philippine Red Cross and other partners it led training or network events on the development of the Participatory Approach for Safe Shelter and Settlements Awareness (PASSA) tool and its adaptation to include youth.
Other Movement components taking part in WUF9 networking or training events include the Malaysian Red Crescent and the Climate Centre – a member of the Partners for Resilience alliance with the Netherlands Red Cross, Cordaid, CARE Netherlands and Wetlands International.
Red Cross Red Crescent colleagues at the IFRC exhibition stand for the 9th World Urban Forum with the Malaysian Red Crescent Secretary General Dato' Sayed A. Rahman bin Sayed Mohd and a 'Volunteers on Wheels' bike. Pedal bikes are symbols of urban sustainability worldwide, and Kuala Lumpur was equipped with several kilometres of new dedicated cycle-only routes in time for WUF9. (Photo: Jill Clements via Twitter)