IFRC named a key partner in UAE global Climate Project to reduce risk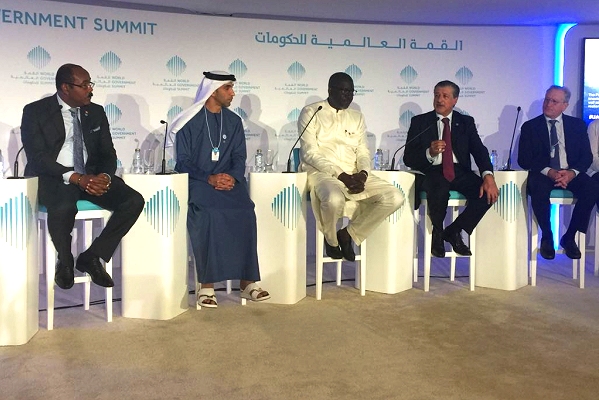 12 February 2018
The United Arab Emirates yesterday said at the 2018 World Government Summit in Dubai that the IFRC will join its new two-year global Climate Project as a key partner.
The announcement brings into focus the humanitarian imperative behind the project, which aims to reduce risks and generate climate-related initiatives, assisting 10 million people affected or displaced in natural disasters worldwide by 2020.
The IFRC Under Secretary General for Partnerships, Jemilah Mahmood, in Dubai for the summit with the Secretary General, Elhadj As Sy, tweeted that the IFRC was delighted to be selected as a climate partner and "that forecast-based financing [FbF] has been identified as a key tool".
Mr Sy tweeted that he had a "very good discussion" with the UAE Minister of Climate Change and Environment, Dr Thani Al Zeyoudi, who announced the Climate Project.
Mr Sy added that the "UAE will work with the IFRC to support FbF to pre-fund humanitarian responses to natural disasters accelerated by climate change."
Dividends
The UAE project was launched on the first day of the summit at a press conference also attended by US actor Robert de Niro, where Dr Al Thani said the initiative would focus on gender and youth, extreme-weather events, and sustainable solutions.
Mr Sy said in Dubai that FbF was one model the IFRC was proposing for scaling up; it had been paying dividends in several national pilots worldwide supported by the German government and Red Cross and other partners.
"When we respond to disaster we must ensure that capacity and resilience is built," he emphasized, "so that next time around if we come back to the same place we will not find the same community in the same state of vulnerability."
The IFRC chief executive stressed the importance of "the combination of forecast-based financing and investment in local communities", and the key role of local actors.
The Togolese and German Red Cross, the Climate Centre and other partners shared in the Edge of Government Award made to the Togolese environment ministry at last year's World Government Summit for joint work on forecast-based financing. 
In December the IFRC decided to enlarge the scope of its long-standing Disaster Relief Emergency Fund by establishing an 'FbF window', and now plans to help 15 countries set up FbF mechanisms by the end of this year.
A further sign of the FbF operating model being mainstreamed into humanitarian practice also came in December with a UN General Assembly resolution on international cooperation on humanitarian assistance: it urged states to "to ensure that early warning leads to early action…including through scaled-up, predictable and multi-year support, such as forecast-based financing".
IFRC Secretary-General Elhadj As Sy at the World Government Summit in Dubai yesterday with, on his right, UAE Minister of Climate Change and Environment, Dr Thani Al Zeyoudi, who has announced a two-year Climate Project to assist some 10 million people by 2020; at far left is Antigua and Barbuda Prime Minister Gaston Browne and at far right Robert de Niro; on Mr Sy's left is Adnan Amin, Director-General of the International Renewable Energy Agency. (Photo: IFRC)