Praise for Security Council statement linking climate and security in Africa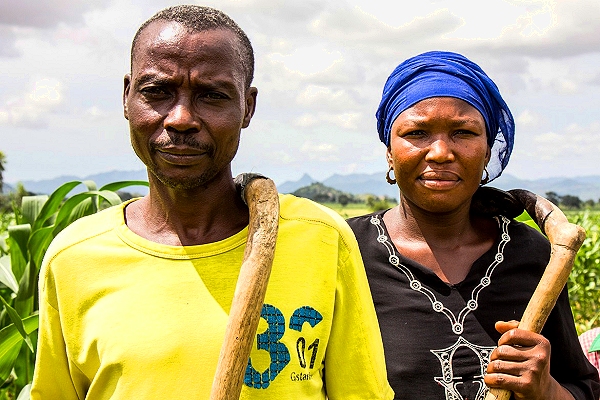 9 February 2018
The UN Security Council last week said it recognized the impact of climate change, ecological changes and other factors on West Africa and the Sahel region, including "drought, desertification, land degradation and food insecurity," and called for strategies by governments and the UN to manage associated risks.
A statement read by the council president, centred on the consolidation of peace in West Africa, expressed "concern over the overall humanitarian situation in the region".
This was characterized by impacts from armed conflict and terrorism, extreme poverty, food insecurity, displacement, the adverse effects of climate change and epidemics, it added – which all contributed to "high levels of structural, chronic and acute vulnerability".
Netherlands Climate Envoy Marcel Beukeboom on Wednesday tweeted that for the Security Council to link climate change and security was a "significant step", and something the Netherlands had argued for through – among other channels – the Planetary Security initiative. 
Precarious
Swedish Foreign Minister Margot Wallström last week tweeted that it was "an important step";  contemporary challenges to peace and security required new approaches, she argued, and in recognizing the adverse effects of climate change the council was also illustrating the "need to tackle [the] root causes of crises".
The Security Council's comments on climate were included in a wide-ranging statement that covered recent events in Liberia, Guinea-Bissau and Togo, and added that it "strongly condemns all terrorist attacks carried out in the region, in particular in the Sahel."  
The challenging regional security picture included "asymmetric terrorist attacks, maritime piracy and transnational organized crime, including trafficking in persons, arms, drugs and natural resources, which can be interlinked."
In a statement last November, the ICRC said a precarious security situation in the Sahel region was "overshadowing a massive humanitarian crisis affecting 12 million people" in Burkina Faso, Chad, Mali, Mauritania and Niger.
"Conflicts in the Lake Chad region and Mali, combined with the activities of armed groups across borders, had serious consequences for neighbouring Burkina Faso and Mauritania," said Patrick Youssef, the ICRC's Deputy Director for Africa.
"The region's challenges are exacerbated by climate change, poverty and food shortages," he added.
The ICRC is helping more than 1.5 million people in these five countries by providing seeds, tools, fertilizers, fodder and animal vaccinations.
'This cannot be solved simply as a climate problem,
a security problem, or even humanitarian response –
we have to fit the pieces together'
The Security Council statement, which also called for "significant humanitarian and development action" to assist affected populations, came after two UN General Assembly resolutions in December 2017 emphasizing the importance of early warning and forecast-based action.
The first, on international cooperation in humanitarian assistance for natural disasters, urged states "to ensure that early warning leads to early action, implemented effectively in a timely manner, including through scaled-up, predictable and multi-year support, such as forecast-based financing".
It encouraged states, the UN, and humanitarian and development agencies to try to improve the global "financing architecture…to better provide coherent, predictable and flexible longer-term funding for risk management in multi-year strategies and forecasting, especially preparedness."
In that General Assembly session, the IFRC argued that risks driven by climate change would be unevenly weighted against poorer people living in areas of low development, and stakeholders should recognize the added value of local actors in addressing risks and climate impacts.
The second, a week later, on disaster risk reduction, called for strengthened international cooperation in the face of disasters, weather-related hazards, El Niño/La Niña, and climate impacts, and noted "the importance of developing risk-informed strategies, forecast-based financing approaches and coordinated multi-hazard early warning systems".
Climate Centre Director Maarten van Aalst also welcomed the UN references to humanitarian innovations to address rising risks, saying discussions under the Paris Agreement, on the SDGs, in the Security Council, and in humanitarian forums all now overlapped.
"We cannot close our eyes to the fact that people in fragile and conflict-affected countries are also the most vulnerable to rising climate-risks.
"This cannot be solved simply as a climate problem, a security problem, or even a question of humanitarian response – we have to fit the pieces together."
Brother and sister Regina and Michael fled the fighting between the Nigerian army and the armed opposition, leaving their farm equipment and cattle behind. Like more than 40,000 people, most of them farmers, they trekked 200 kilometres with little food or water to Cameroon. After returning to their community in Mubi, the ICRC provided them with maize seed and fertilizer and helped them restart their lives. The conflict in north-east Nigeria has generated a massive humanitarian crisis in the Lake Chad region, says the ICRC. (Library photo: Jesus Serrano Redondo/ICRC)