Partners for Resilience to WUF9: 'Strong, well-organized communities can manage the risks they face'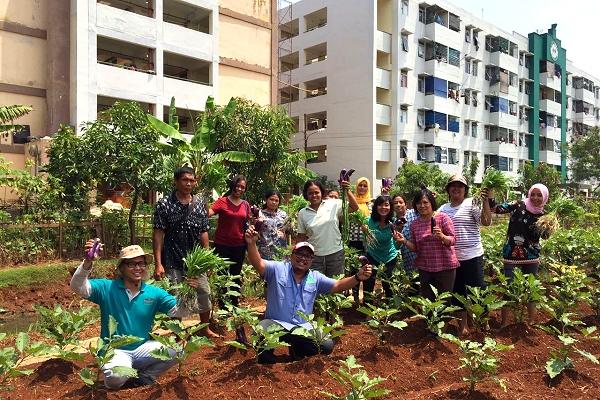 7 February 2018
Arguing that disasters can wipe out development gains and are being exacerbated by climate change, population growth, unplanned urbanization, degradation of ecosystems and uncontrolled economic development, the Netherlands-based Partners for Resilience (PfR) are carrying seven key messages to the 9th session of the World Urban Forum that gets underway in Kuala Lumpur today.
WUF9 is the first since adoption of the New Urban Agenda at the 2016 Habitat III conference in Ecuador, and "will be instrumental to substantively feed into the inputs for the first report [on its] implementation," the UN says, describing the agenda as the "result of a unique consensus among all participating states".
The document sets out a common vision and global standards for urban development in the next few decades, with – for the first time in history – more than half of the world's population now living in cities.
WUF9's theme is: Cities 2030, Cities for All: Implementing the New Urban Agenda.
'Unique consensus'
"Building resilience in urban areas plays a significant role in minimizing risks," is the central message in the new PfR policy document issued to coincide with WUF9.
"Strong, well-organized communities can manage the risks they face, reduce the impact of disasters, and sustain development," it adds.
The document argues that with evolving risks exacerbated by climate change, multidisciplinary and innovative approaches are needed to ensure communities and governments are able to both anticipate, adapt and respond, and create transformational change.
PfR's engagement at WUF9 centres on these seven calls: for communities to be central partners in urban planning; for an integrated approach to risk management; for responsible investment in urban areas; for local financing for local action; for the partnerships that are crucial to building resilience and urban development; for increased financing for ecosystems; and for a focus on implementation of the New Urban Agenda and other international agreements.
Together with the Philippine Red Cross and other partners, the IFRC is leading two training and network events in Kuala Lumpur on the development of the Participatory Approach for Safe Shelter and Settlements Awareness (PASSA) tool.
Dialogue
Movement components taking part in WUF9 networking or training events also include the Malaysian Red Crescent and the Climate Centre.
PfR is an alliance of the Netherlands Red Cross, Cordaid, CARE Netherlands, the Red Cross Red Crescent Climate Centre, and Wetlands International and more than 50 local partners worldwide.
Bringing together organizations from the humanitarian, development and environmental fields in dialogues with stakeholders, PfR seeks to improve policy, practice and investment in Ethiopia, Guatemala, Haiti, Kenya, Mali, the Philippines, India, Indonesia, South Sudan and Uganda.
Urban farming in Jakarta: PfR Indonesia's Marunda Urban Resilience in Action (MURIA) project is led by local partner Karina KWI Yogyakarta, supported by Cordaid. It centres on urban farms that deploy rainwater harvesting and risk maps against plant pests and coastal flooding. Vegetables produced on MURIA farms have increased the range of fresh foods in the community, improved people's health, and provided sustainable livelihoods. (Photo: PfR Indonesia)