€10m donation from IKEA Foundation will support Red Cross 'early warning early action' in Ethiopia, Kenya and Uganda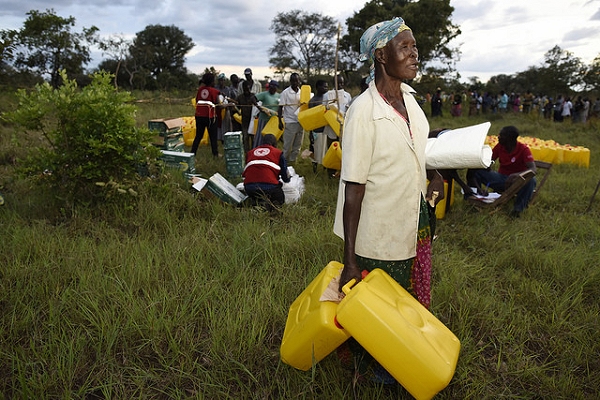 26 January 2018
The Netherlands-based IKEA Foundation is donating 10 million euros to assist Red Cross 'early warning early action' through innovative preparedness work in Ethiopia, Kenya and Uganda* over a five-year period – focusing on people exposed to droughts and floods, and especially the large refugee populations in all three nations, it was announced today.
The new project, which aims eventually to assist at least a million people, will incorporate three main areas of work: forecast-based financing (FbF), first used by the Red Cross Red Crescent in Uganda in 2015 and most recently rolled out in Mongolia, data preparedness, and the cash transfers increasingly embraced by the humanitarian community.
The combination of these operating models will put an early warning early action system in place enabling the National Societies involved to help deliver cost-effective, timely action for vulnerable people facing climate-related disaster – basing this on forecasts rather than waiting until the damage has been done, organizers say.
The relatively new technique of data preparedness will address the rapidly changing information environment that has significantly increased the amount of open data available before, during and after a disaster.
Nationwide maps showing the risk or impacts of hazards will both support early action by humanitarian agencies and the establishment of FbF 'triggers' for intervention.
'Strong partners'
The programme will help National Societies become more data-prepared, generating integrated community risk-maps including socio-economic data, food security and health indicators, and historical data on droughts and floods.
The programme will also pilot what organizers believe is a faster and better way of selecting beneficiaries using data and the INFORM index for risk management.
*Country by country, the programme will centre on Ethiopia's Somali Region, home to almost 250,000 registered Somali refugees, which also faces protracted displacement due to flooding and conflict.
*In Kenya, ranked number four in Africa for refugees hosted, several refugee camps are located in flood-prone areas and the programme will start by assessing which to concentrate on.
*The programme in Uganda will focus on areas where its large refugee population is concentrated that are prone to floods, droughts and bush fires. FbF expertise gained by the Uganda Red Cross, as part of the first programme in the country supported by the German government and Red Cross, will be carried over into the new work.
"The IKEA Foundation is committed to improving the chances of the poorest children in the world – concentrating on the four fundamental aspects of their lives: health, home, family income and school – and supports projects that can create substantial change," said Annelies Withofs, Programme Manager at the IKEA Foundation
"We collaborate with strong strategic partners like the Red Cross Red Crescent who can demonstrate an innovative approach to getting results on a large scale."
Activations
Gijs de Vries, CEO of the Netherlands Red Cross (NLRC), said: "We are very proud to have the IKEA Foundation as a partner.
"The special feature of this collaboration is using operating models like early warning early action, which helps us to take concrete measures before a possible disaster happens.
"This kind of work is very much the future of humanitarian aid and will ultimately save money; it's great the IKEA Foundation recognizes this reality and will work with us on this challenge."
The new programme will commence with inception and development stages; then in a two-year operational stage FbF activations will depend on forecasts, but plans have been made to address one major regional drought, triggering interventions in at least two countries, and two floods.
As well as the local National Societies involved and the NLRC, the programme will work in partnership with the IFRC and, in Kenya, the British Red Cross, as well as with technical support from the Climate Centre; the data preparedness component will be implemented with the support of NLRC's 510 Global initiative.
*Listed here in alphabetical order.
Forecast-based financing is launched by the Red Cross in Uganda in Kapelebyong sub-county, 300 km north-east of the capital, Kampala, in November 2015. The Uganda Red Cross distributed two jerrycans, two bars of soap, and a month's supply of water purification tablets to 370 households in the villages of Okoboi, Omatai, Apedu and Akulonyo. The URCS mobilized the supplies as soon as a predetermined threshold of forecast risk was crossed a day ahead of the operation. (Photo: Denis Onyodi/URCS-Climate Centre)