Listen to the poor and to the scientists, says Davos panel on preparedness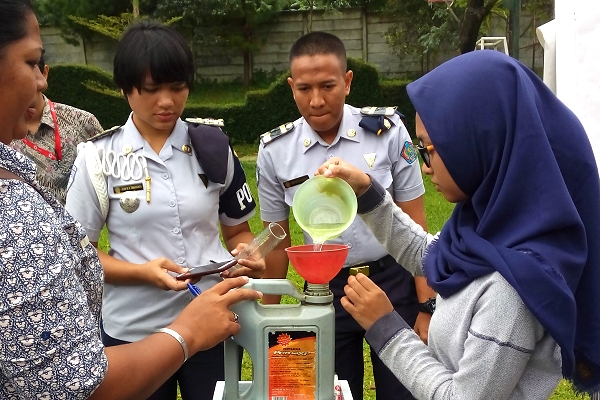 25 January 2018
A panel at the World Economic Forum annual meeting in Davos yesterday heard a call for two disparate groups to be brought into the mainstream of humanitarian and development engagement for preparedness: the poor and the scientific community.
Speaking at the panel, organized by Devex and the Global Humanitarian Lab, and representing the private sector, Ed Martinez, president of the UPS Foundation, said one group whose voice was almost always absent from high-level round tables was the poor.
"If you look at what happened in [Typhoon] Haiyan in the Philippines or [Hurricane] Katrina in the United States," he said, "it was the poor who really carried the burden of those catastrophes, so who is talking to the poor?"
"When I talk about preparedness," he said, "I mean preparedness all the way from the household to larger institutions, and that's what the American Red Cross and the International Federation of the Red Cross and Red Crescent are very good at – really reaching into that household."
'That last mile is the first mile
for our millions of volunteers across the world'
A second community sometimes overlooked, said IFRC Under Secretary General for Partnerships Jemilah Mahmood, was scientists.
"The science is out there," she said, "and we're so much better now, for example, at understanding climate risk, but we don't bring this community in.
"So at the Federation we're doing a lot of work on 'futures and foresight', including a group of scientists – really the unusual suspects – who spend a lot of time looking into things, but don't necessarily connect with the rest of us practitioners on the ground."
Dr Mahmood, who later joined Climate Centre Associate Director for Research and Innovation Pablo Suarez for a special session on forecast-based financing, said FbF was a "very important tool that we've started to use more with the support of the German government and Red Cross, where we're using the science…and then putting in the preparedness measures. And it works, it really works." 
Delivery
The evidence is there, Dr Mahmood argued, but it was difficult to get the media, for example, to focus on preparedness rather than response. "How do we turn that around?" she asked.
"How do we start telling stories about the lives that have been enriched because preparedness was put in place?" The media and education sectors were two that deserved more attention on this issue.
Recalling that extreme weather emerged in the WEF's Global Risks Report 2018 as the single greatest risk facing communities, Michael Møller, Director-General of the UN's Geneva office said that one priority was "to work prepare our populations to withstand this reality".
A second key point, he agreed, was that preparedness had been proved to work.
The afternoon FbF session at Davos also included Silvie Kreibiehl, Co-Head of the Frankfurt School – UNEP Collaborating Centre for Climate & Sustainable Energy Finance, and featured innovations can lead to smarter and faster humanitarian delivery and a German Red Cross virtual-reality experience of FbF in Togo.
Referring to the UK-supported Mongolian Red Cross FbF operation for dzud-risk that has just got underway, Suarez stressed the value of linking science with early action through timely cash transfers.
'Overarching belief'
On preparedness overall, spending on humanitarian response is in the billions and rising every year, "yet only 1 per cent of that goes on preparedness," Dr Mahmood told the panel.
"The gap between what we need and we collect in humanitarian funding is widening."
Mr Martinez said his "overarching belief is that when you look at the cost of responding to sudden-onset disasters or crises, [being prepared] really amounts to a 'discount' on the cost of response; a down-payment on the cost of recovery for these communities."
Arguing that "volunteers are the ones who work in the 'last mile' of preparedness in countries like Bangladesh," Dr Mahmood said governments, civil society, the Red Cross and Red Crescent, faith-based groups, and NGOs all had to "come together to really own the space of preparedness and co-design a seamless process where everyone has a role.
"That last mile is the first mile for our millions of volunteers across the world."
She added: "Davos 2018 focuses on our fractured world and how partnership should be a default mechanism and not just 'nice to have', if we're truly going to tackle some of the greatest challenges today and into the future. 
"World leaders from all sectors are here, and they must leave with concrete plans and goals."
The specialist panel on preparedness was chaired by Devex Associate Editor Adva Saldinger in the Sustainable Impact Hub – an open discussion space set up in Davos by 14 UN and international organizations working in humanitarian relief, innovation and development.
The Indonesian and American Red Cross last month held a workshop (pictured) on weather and climate information and early warning for the community in Bogor city, near Jakarta. Students from Indonesia's Meteorological, Climatological and Geophysical Agency took part as facilitators, accompanied by two Met Office lecturers. The technical workshop was aimed at getting people ready for the peak of the rainy season between about now and the end of February. This year's meeting in Davos of the World Economic Forum heard a call from the IFRC for scientists to be closer to the centre of engagement on preparedness, with extreme weather identified as currently the single biggest risk facing communities. (Photo: Andry Napitupulu/American Red Cross)