With Mongolia at risk of third consecutive disaster, UK-supported forecast-based financing rolled out to complement expanded Red Cross operation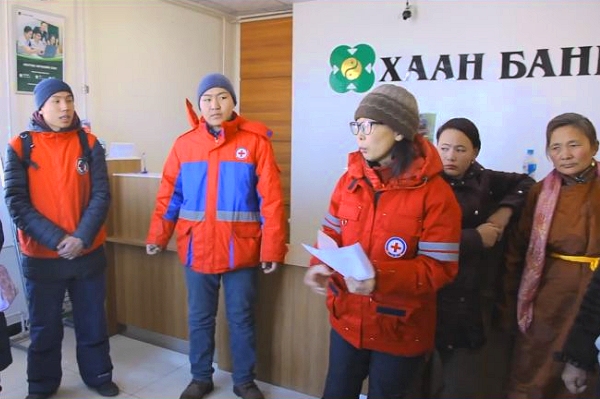 24 January 2018
The IFRC said today that with well over half of Mongolia now facing at least a 'high risk' of a third consecutive winter dzud, it's augmenting its operation for the 2016–17 disaster to support preparedness and capacity building with the Mongolian Red Cross Society (MRCS); this follows "close consultation with the affected population and relevant authorities".
As part of the international response to the last dzud, the MRCS has distributed humanitarian cash totalling nearly a quarter of a million tugriks, or the equivalent of US$ 100 each to 2,740 households, and distributed first aid and veterinary kits to 1,740 households in 11 severely affected provinces. 
The IFRC's February 2017 emergency appeal was increased last October to more than US$ 850,000 from US$ 655,000, to extend the operation for a further three months. 
Risk map
Now the new operational update quotes Mongolian scientists as saying that after an unusually hot and dry summer, there's a risk of a countrywide 'black dzud' – a local term for a very cold winter with little precipitation, water or pasture.
"The lack of precipitation withered pasture land throughout the country," the update says, "and many herder households were unable to prepare an adequate amount of hay and about 60 per cent of livestock were not able to gain enough fat."
As of the third quarter of last year, it adds, more than 600,000 animals had died from hunger or disease.
In November the National Agency for Meteorology and Environment Monitoring issued a dzud-risk map for this winter showing 12 provinces or some 40 per cent of the country at 'extreme risk' of a dzud and about 20 per cent at 'high risk'.
The MRCS last month distributed 20 bundles of hay to each of 624 vulnerable households in soums (townships) in parts of Tuv and Uvurkhangai provinces assessed from the government map to be at extreme risk of dzud; among other recent interventions, 55 herder households in nine provinces also got help repairing their winter shelters.
Animal kits
Complementing this effort, with support from the UK government through the British Red Cross, the MRCS has now begun implementing a bilateral forecast-based financing operation developed by the Climate Centre to reduce the dzud risk – the first ever in Mongolia.
Two-thousand households in 40 soums at extreme risk are getting unconditional cash grants (photo) and shortly animal-care kits to help them through the worst of the winter.   
The MRCS "is now developing an integrated dzud preparedness and contingency plan in close consultation with the National Emergency Management Agency and herder communities," the IFRC update says. 
The Mongolian government has not formally declared a new dzud this winter or requested international assistance. 
In the 2016–17 dzud, all but four of the country's 21 provinces and some 37,000 herder households dependent on livestock in sparsely populated areas were badly affected, with temperatures dropping as low as minus 50°C.
As many as 1.1 million livestock were lost in the winter of 2015–16, and the dzud of 2009–2010, one of the most severe in history, saw nearly 10 million animals die.
Mongolian Red Cross personnel facilitating a humanitarian cash distribution earlier this month in Tuv province as part of the UK-supported forecast-based financing programme there. (Photo: MRCS)