IFRC road-map vision for Africa: effective, accountable and resilient National Societies who support one another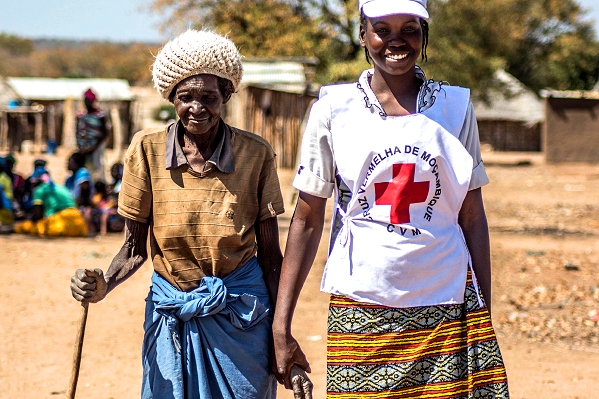 22 January 2018
The IFRC on Thursday published a detailed road map for its work in Africa over the next few years, summarizing the rationale for its strategic and operational plans.
"The vision of the IFRC in Africa is a continent filled with effective, accountable and resilient National Societies who support one another, provide best-in-class service to vulnerable communities, and receive consistent, reliable and relevant support from their secretariat," according to IFRC in Africa, Road Map 2017–2020.
Among the key principles underpinning the road map are a commitment to be closer to all 49 members of the IFRC in sub-Saharan Africa, through the provi­sion of practical services and a "shift from short-term, project-based funding to multi-year, thematic fund­ing".  
Saving lives "remains an essential responsibility of IFRC and its members but also insufficient. We must reduce the need.
"The IFRC will work to build a more resilient world, where dignity is cherished and fewer lives are disrupted or ended from disaster, conflict and disease."
'Dramatic shifts in climate continue to exacerbate
challenges and compound risk for millions'
   It points out that Africa is the fastest growing continent in the world, due to favourable commodity prices, new trading links and widespread improvements in economic governance; there is also a growing and increasingly vocal civil society in Africa calling for new forms of engagement with government, academia, business and communities.
But at the same time, "these gains are jeopardized by ongoing and in some cases worsening vulnerabilities", arising from continued lack of access to services and inadequate resources to sustain development when confronted with natural disasters, poverty, climate-related hazards, conflict and political unrest.
The IFRC emphasizes: "Additionally, dramatic shifts in climate continue to exacerbate these challenges and compound risk for millions of people."
Green solutions
In setting out plans to meet these challenges, the new road map details milestones on the way to success in eight key areas.
Disaster risk reduction (DRR) – the first – "lies at the heart of the Africa Region's strategy," the road map says.
It will "address root causes to mitigate risks and bolster resilience to future shocks [and] accelerate the One Billion Coalition (1BC) in Africa, initiating coalitions and enabling key platforms for interested National Societies."
The two-part Federation goal in this general area will be for communities to be prepared for, and able to respond to, disasters, and "adopt climate-risk informed and environmentally responsible values and practices".
Among milestones for success this year are the adaptation of tools to enhance urban DRR programming and action plans for communities to prepare for droughts and floods; the IFRC also hopes to support at least ten National Societies to engage with governments on green solutions or adaptation frameworks, and sign agreements with state meteorological institutes.
Culture of peace
Forecast-based financing is also prominent among milestones in each of the four years from 2017 to 2020, starting, last year, with a general leveraging of the operating model in Africa, then including a total of eight FbF programmes in at-risk areas and, this year, one formal agreement on FbF.
The other focus areas, in order, are shelter, livelihoods, health and care, water and sanitation, social inclusion, a culture of peace and non-violence, and migration.
The final part of the road map details on IFRC strategies for implementation.
The road map was supported by desk research and interviews with African National Societies and teams in the IFRC Regional Office for Africa in Nairobi, Clusters and Country Offices, Partner National Societies with an interest in the region, including consultations at the Pan African Conference.
A Mozambique Red Cross volunteer assists Angelina Cossa, who was complaining of hunger, at a food distribution in Mabalane district during the devastating drought exacerbated by the 2016–17 El Niño. The Red Cross distributed rice, oil, flour and beans to nearly 600 families. The photo is among those illustrating the IFRC's new road map for its work in Africa, where it says "dramatic shifts in climate continue to exacerbate these challenges and compound risk for millions of people." (Library photo: Aurelie Marrier d'Unienville/IFRC)