'5,000 families now eat better and pay school fees in Garissa'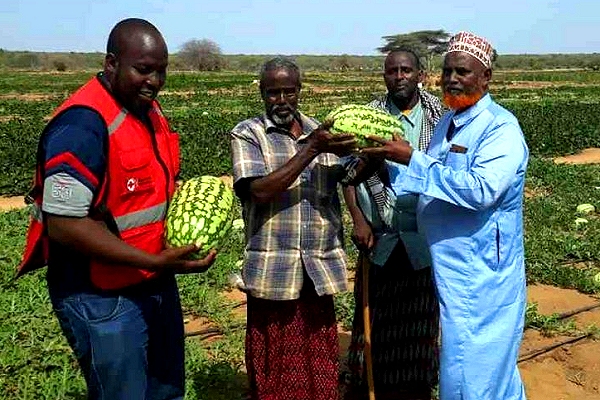 22 January 2018
Five-thousand households in Kenya's Garissa county have adopted improved farming and animal husbandry techniques as well as crop diversification and other income-generating activities as part of the Kenya Red Cross Society's (KRCS) Hunger Resilience Project, The Star newspaper reported last week. 
Farmers in one sub-county, Damanjaley, earlier this month got a bumper harvest of watermelons, cowpeas and other produce (photo) – just in time to help them with schools fees due in January.
Lives have been transformed by the project, said one farmer, Hassan Abdi.
"I paid school fees for my son that amounted to 50,000 [Kenyan] shillings using the money I earned from selling the first harvest," he said, adding that he had lost all his cows and camels in the drought that has been seriously affecting much of Kenya.
He was left with nothing until the Red Cross helped him start farming, which has changed his life.
Uptake
The climate-smart KRCS project started in October 2015 and is being implemented in seven locations in the sub-counties of Damanjaley and Kulan. 
It directly supports 2,500 households, as well as 665 through farming support, 1,200 through pastoral activities, and a further 635 households with environmental initiatives.
Farmers are helped throughout the production process from inputs to markets, KRCS project officer Victor Kiprotich told Star reporter Gilbert Koech.
"After a harvest, the Kenya Red Cross helps them get a market for their produce," he said. "Farmers in Damanjaley are currently selling their produce locally."
Building resilience is at the core of KRCS programming, says the The Star. "The approach aims to achieve sustainable or permanent risk reduction among communities.
"Communities themselves have been given a central role to collectively improve community resilience against crises, shocks and other stresses," the paper adds, while the project's overall success has been attributed to support and uptake by local people.
Farmers display watermelons at the Damanjaley project site, with KRCS project officer Victor Kiprotich. (Photo: The Star)