'We have been pushing our planet to the brink'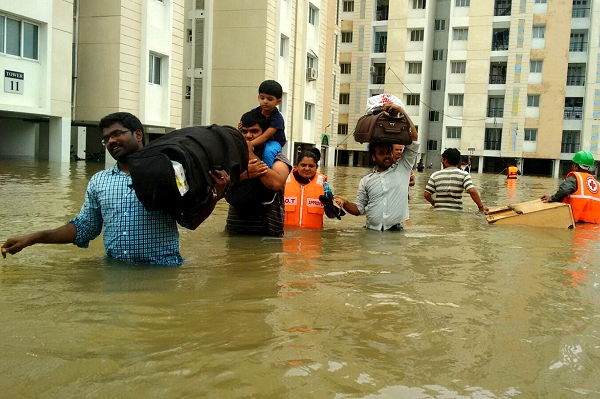 19 January 2018
For the second year in a row environmental issues dominate the survey of the perception of risk in the Global Risks Report 2018, issued this week by the World Economic Forum (WEF) just ahead of its annual meeting that starts on Tuesday in Davos, Switzerland.
Expert interviewees were asked to prioritize 30 global risks for likelihood and impact, and all five environmental issues – extreme weather, loss of biodiversity loss and collapsing ecosystems, natural disasters, man-made environmental disasters, and a failure of climate mitigation and adaptation – were ranked highly on both counts.
But extreme-weather events were seen as the single most prominent risk.
"We have been pushing our planet to the brink and the damage is becoming increasingly clear," the report says.
Alison Martin, Group Chief Risk Officer at the Zurich Insurance Group, which has a partnership with the IFRC centred on flood resilience, commented that: "Unfortunately we currently observe a 'too-little-too-late' response by governments and organizations to key trends such as climate change.
"It's not yet too late to shape a more resilient tomorrow, but we need to act with a stronger sense of urgency in order to avoid potential system collapse."
Risks
In an op-ed article for the WEF, Ms Martin added that Zurich Insurance analysis showed "the likelihood of missing the Paris Agreement target of limiting global warming to 2ºC or below is greater than the likelihood of achieving it. This is likely to exacerbate the impact of global environmental risks."
Overall, predicted strong economic growth in 2018 presents governments with "a golden opportunity to address signs of severe weakness in many of the complex systems that underpin our world, such as societies, economies, international relations and the environment," said a WEF press release summarizing the conclusions of the Global Risks Report, which has been published each January for 13 years.
However the report says that some experts worry that better GDP growth may lead to complacency about persistent structural risks in the global economic and financial systems.
In its survey of how experts view risk, the WEF says 59 per cent of nearly 1,000 respondents saw an intensification of risks, compared with only 7 per cent pointing to a reduction.
"A deteriorating geopolitical landscape is partly to blame for the pessimistic outlook in 2018," the release adds, with 93 per cent of respondents saying they expect "political or economic confrontations between major powers to worsen," and a large majority foreseeing "risks associated with war involving major powers".
WRF chair Klaus Schwab said: "We must take seriously the risk of a global systems breakdown. Together we have the resources and the new scientific and technological knowledge to prevent this.
"Above all, the challenge is to find the will and momentum to work together for a shared future."
Flood protection
The Global Risks Report 2018 comes a few days after the Potsdam Institute for Climate Impact Research said increased rainfall caused by global warming will increase the risk of river floods worldwide – already among the most devastating natural disasters and a major priority for the humanitarian sector and the Red Cross Red Crescent.
The necessary increase in flood protection required through the 2040s is greatest in the US, parts of India and Africa, Indonesia, and in Central Europe, the Potsdam institute paper in the Science Advances journal says.
"Inaction would expose many millions of people to severe flooding.
Co-author Anders Levermann, a Potsdam researcher, said: "We have been surprised to find that even in developed countries with good infrastructure the need for adaptation is big."
He added that without limiting global temperature increase "to well below 2ºC, river flood risks in our century will increase in many regions to a level that we cannot adapt to…The findings should be a warning to decision-makers."
Indian Red Cross volunteers from the Tamil Nadu branch helped to evacuate nearly 500 families from the flooded Vijay Shanthi apartment complex in November 2015 when they no longer had running water, sewerage or electricity. India is one of several areas where a necessary increase in flood protection in the next few decades is greatest, according to new research by the Potsdam Institute for Climate Impact Research. (Library photo: IRCS via IFRC)