Munich Re: 2017 hurricanes and 'extraordinarily heavy' monsoon help generate highest insured losses ever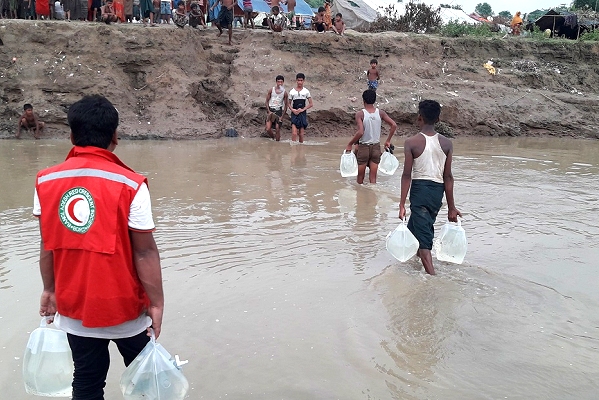 8 January 2018
The final insurance bill for Hurricanes Harvey, Irma and Maria and other 2017 disasters, including the September earthquake in Mexico, is expected to be US$ 135 billion – an all-time record, according to a report last Thursday from Germany's Munich Re insurance group.
This number added to uninsured losses produces an annual total of US$ 330 billion – the second-highest figure ever for overall losses from natural disasters, and almost double the ten-year average adjusted for inflation.
Losses just from weather-related disasters also set a new record.
Costliest disaster
"This year's extreme natural catastrophes show how important insurance is in absorbing financial losses [from] disasters," said Torsten Jeworrek, in charge of Munich Re's reinsurance business. 
"A key point is that some of the catastrophic events, such as the…three extremely damaging hurricanes or the very severe flooding in South Asia after extraordinarily heavy monsoon rains, are giving us a foretaste of what is to come.
"Because even though individual events cannot be directly traced to climate change, our experts expect such extreme weather to occur more often in future."
With overall losses of some US$ 85 billion, Hurricane Harvey last summer was the costliest natural disaster of 2017, according to Munich Re. 
In their most recent analysis, scientists with the World Weather Attribution group said last month that human-caused climate change made the record rainfall that fell on Houston, Texas during Harvey "roughly three times more likely and 15 per cent more intense".
"Approximately 10,000 people lost their lives in natural disasters [in 2017]," Munich Re say, "a slightly higher figure than last year's, but at least much lower than the ten-year average of 60,000."
Some 2,700 people died in the "extremely severe" South Asian monsoon, which Munich Re say lasted about four weeks longer than normal, but only a small fraction of the US$ 3.5 billion in losses was insured.
'Risk expertise'
"This is extremely timely and useful data from Munich Re, issued when these disasters are still fresh in people's memories and recovery programmes are underway," said Climate Centre Director Maarten van Aalst.
"It reinforces the case for more investment in resilience and the global architecture underpinning efforts to build it – like the UN's 'A2R' initiative and the IFRC's One Billion Coalition, as well as, of course, the developing partnership between the insurance and humanitarian sectors we saw good examples of at the recent UN climate talks in Bonn."
Tony Kuczinski, Munich Re's chief in the US, said: "Our industry's risk expertise, capital strength, and claims-handling infrastructure are critical to finding meaningful solutions, and Munich Re is an active participant in the public-private partnership that seeks to offer more flood insurance options."
Humanitarian services
The Munich Re analysis also shows that unusually low temperatures in April caused major damage to European farmers whose crops had grown well in an otherwise warm spring.
The reports says that with climate change, crops in some regions sprout earlier in spring, while the threat of frost often does not recede to the same extent, meaning the risk to agriculture actually increases, as it did last year.
IFRC Secretary General Elhadj As Sy said in Bonn that climate change is now "a key driver of risk" in the modern world, pointing out that more than 90 per cent of natural hazards are now regarded as climate-related, and demand for Red Cross Red Crescent humanitarian services would surge as a result.
In September last year the IFRC reported that 16 million people in Bangladesh (pictured, Cox's Bazar, where the Red Crescent was providing 4,000 litres of drinking water a day to displaced people), India and Nepal were affected by the destructive monsoon, which Munich Re say lasted four weeks longer than usual. However, only a small fraction of US$ 3.5 billion in losses in the monsoon regionwwide was insured. (Photo: Ziaul Haque Himel/BDRCS via IFRC)