Elhadj As Sy: Early action assisted by early-warning technology IFRC's #1 priority for 2018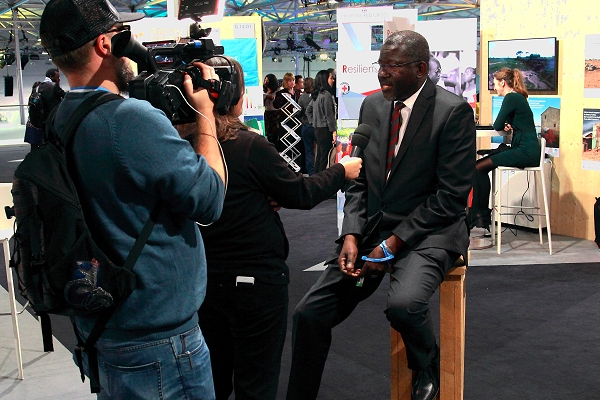 27 December 2017
IFRC Secretary General Elhadj As Sy today said the organization's number one focus in 2018 will be "to ensure early warning is met with early action through making funding available before disaster hits".
Speaking with other humanitarian leaders in interviews with the Thomson Reuters Foundation, Mr Sy said "early-warning technology alerts us to seasonal or anticipated weather-related events that have the potential to devastate communities", but facilitated "putting in place operations that mitigate suffering and loss of livelihoods."
With the UN Office for the Coordination of Humanitarian Affairs (OCHA) appealing for a record US$ 22.5 billion for humanitarian responses worldwide, Thomson Reuters Foundation correspondent Anastasia Moloney asked ten agencies to name their top priorities for 2018: the International Rescue Committee (IRC), Oxfam, Action Against Hunger, Christian Aid, the Norwegian Refugee Council, Action Aid, the UN Food and Agriculture Organization (FAO) and the World Food Programme (WFP), as well as OCHA itself and the IFRC.
The report says the UN view is that: "Violence, displacement and hunger will drive record humanitarian needs in 2018, with nearly 136 million people worldwide in need of aid."
It adds: "Protracted conflicts in Syria, the Democratic Republic of Congo and Yemen, the Rohingya exodus from Myanmar and natural disasters exacerbated by climate change are among many crises."
'It would be foolish to think the food crisis
across Kenya, Ethiopia, Somalia
and South Sudan has gone away'
My Sy, pointing out that conflicts and disasters can quickly generate health emergencies, secondly, said the IFRC is prioritizing "emergency health-care, water and sanitation services for timely lifesaving and recovery assistance."
It was also, thirdly, "committed to ensuring principled humanitarian action is as local as possible through increased support and investment" in National Societies.
On Christmas Eve, Mr Sy tweeted his support for the people of the Philippines, saying they had always "embodied resilience, courage and community in the face of natural disaster," and the Red Cross Red Crescent was with them hour by hour.  
OCHA chief Mark Lowcock told the Thomson Reuters Foundation the UN aimed to reach more than 90 million "extremely vulnerable people in 26 countries", adding that, largely because of conflict, there are now 40 million people displaced in their own countries.
Mr Lowcock said OCHA wanted "to make the humanitarian system as effective and responsible as possible".
Dominique Burgeon, FAO's Director of Emergencies, said the agency's top priority for the coming year was to reduce the number of people "on the brink of famine or severe food insecurity in the Central African Republic, the Democratic Republic of Congo, north-east Nigeria, Somalia, South Sudan and Yemen."
It would also "support food production, even in conflict situations, [and help] countries address the impact of climate change".
The FAO was one of three agencies to name Yemen as – or include it in – its top priority, along with the IRC and Oxfam; Yemen was second on the list of Action Against Hunger after the Rohingya crisis.
Earlier this month the ICRC described Yemen as "the world's single largest humanitarian crisis," with over 20 million peope there in need of aid; the International Committee was providing food, clean water and essential household items and in 2017 had reached some 4 million.
Technology
David Beasley, Executive Director of the WFP, which together with the Red Cross Red Crescent is one of the agencies piloting forecast-based financing in a number of countries around the world, said the agency wanted to make "food and cash-based assistance central to economic development and regional stability."
Echoing My Sy's comments, he added that technology "could be used to transform humanitarian assistance into an effective force for stability and peace."
(The WFP website describes its FoodSECuRE programme as "a ground-breaking financial and programmatic tool that will trigger action before, during and after climate disasters"; together with preparedness for climate risks, it represents "critical efforts…to deploy forecast-based financing modalities in support of improved preparedness and early community action.")
"It would be foolish to think the food crisis across Kenya, Ethiopia, Somalia and South Sudan has gone away," Mike Noyes, Head of Humanitarian Response at Action Aid, told the Thomson Reuters Foundation.
"Another period of poor rains and failed harvests [would] mean the region's vulnerability continues, and the risk of further deterioration in 2018 is very real."
IFRC Secretary-General Elhadj As Sy interviewed by a UN video crew at the COP 23 UN climate talks in Bonn earlier this year. Behind him is the IFRC booth, exhibiting Red Cross Red Crescent forecast-based financing, supported by the German government through the German Red Cross. (Photo: Alex Wynter/Climate Centre)