IFRC warns of worsening conditions in the Philippines after deadly Tropical Storm Tembin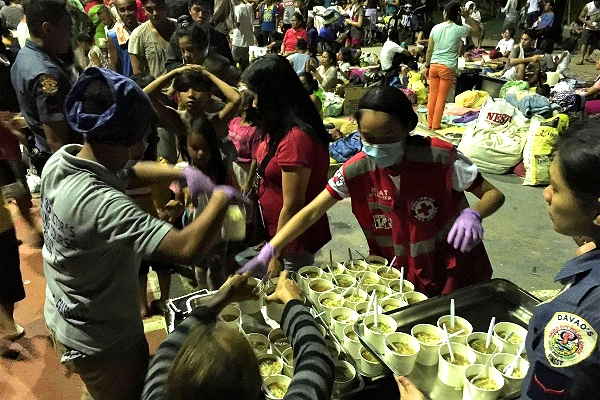 26 December 2017
(This story appeared first earlier today, 26 December, on the IFRC news site, as did its emergency appeal. An update on the Vinta operation from the PRC also appeared earlier today.)
Four days after Tropical Storm Tembin made landfall in Mindanao, thousands of survivors are still in desperate need of humanitarian assistance.
"Our teams in Mindanao are doing all they can to reach everyone who needs them. But the work is difficult and often slow," says Philippine Red Cross (PRC) Chairman Richard Gordon. "Around the world, people are spending this time with their families. For people affected by Tembin, what should be a peaceful time is instead full of uncertainty and fear. We need to help them."
As responders reach the worst-affected areas, details of the havoc wrought by Tembin (known locally as Vinta) continue to emerge. More than 500,000 people in 23 provinces have been affected.
The National Disaster Risk Reduction and Management Council confirms that 164 people have lost their lives to the flash floods and landslides; 176 are still missing.
The number of casualties is expected to increase as the authorities verify information being received from the provinces.
'In minutes they lost everything, then had to fight for their lives 
as walls of mud and water washed through their homes'
In addition to causing the loss of human lives and internal displacement, Tembin has substantially impacted shelter and livelihoods and caused damage to crops and critical infrastructure including roads, bridges and power-transmission lines.
PRC volunteers and search and rescue teams have been active since the hours before the storm made landfall, and are now working to reach people in need with water, food, and emergency shelter.
Hot meals are being served and welfare services provided in the evacuation centres, where over 50,000 people are staying after being evacuated before the storm made landfall.
To support these efforts, the IFRC is joining the PRC in appealing for 2.8 million Swiss francs to assist more than 20,000 people affected by the storm in four of the worst-affected provinces: Lanao del Norte, Lanao del Sur, Zamboanga del Norte, and Cagayan de Oro.
"People have gone through a massive shock. In just minutes, they lost everything, and then had to fight for their lives as walls of mud and water washed through their homes," says Patrick Elliott, IFRC Operations and Programmes Manager in the Philippines.
"Now we must ensure that affected communities have immediate access to essential items and services including cash, food, water, sanitation, shelter and healthcare, as well to information, psychosocial support, and protection."
The Red Cross is providing hot meals to thousands of people displaced by Vinta over the Christmas period, such as here in coastal Davao City on Mindanao. (Photo: PRC via Twitter)