Philippine Red Cross personnel spend Christmas with families displaced by Vinta and Urduja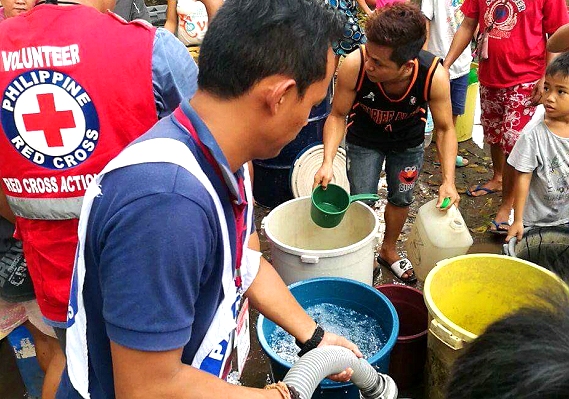 24 December 2017
(This story apeared first yesterday on the news site of the Philippine Red Cross – it has been slightly edited here for length. An IFRC news story on Tropical Storm Tembin, as Vinta is known internationally, was also published yesterday, along with a further operational update.)
Amidst the Christmas celebrations Philippine Red Cross (PRC) staff and volunteers continue to work double time, even if it means not spending Christmas with their respective families, to provide humanitarian assistance to those affected by the two recent storms Vinta and Urduja.
PRC Chairman and CEO Richard Gordon said staff and volunteers from the 31 chapters in Mindanao and its national headquarters are currently responding and closely monitoring the situation as Tropical Storm Vinta traverses the country. 
"When the world no longer watches, the Philippine Red Cross stays to do what must be done. We are one in helping the most vulnerable, banking on our fundamental principle of humanity," Gordon said.
He added that the PRC also mobilized 82 staff and 1,955 volunteers from its 24 chapters in the Visayas islands to help those affected by Tropical Storm Urduja, which made a total of six landfalls on 16 December.
"I would like to commend the families of our staff and volunteers who continuously share their loved ones with us so they can be of service to humanity. This is the true spirit of the holiday season," he added.
Pre-positioned items
For Vinta alone, the PRC has so far provided hot meals to 1,880 individuals and psychosocial support to 856 people.
PRC volunteers were also first to respond when a ceiling of the Butuan City Jail collapsed during the height of Vinta last Friday. 
Prepositioned non-food items from the IFRC for 1,000 families are also ready for distribution at the Philippine Red Cross Chapter in Cagayan de Oro.
PRC teams were among the first on the ground to assess and monitor the situation in the aftermath of Urduja. 
So far, the Red Cross was able to provide rescue, welfare assistance, first aid management, hot meals, psychosocial support, and relief goods in Urduja-affected communities.
Some 240 families received sleeping kits, which include blankets, towels, and plastic mats.
Food items were also distributed to 651 affected families. At least 8,185 individuals were provided with hot meals and 169 people were given psychosocial support.
The PRC was among the first to access Biliran province, one of the hardest hit areas by Urduja. 
The Red Cross set up a 5,000-litre water bladder at the Biliran Provincial Hospital to provide water to patients and residents, and provided anti-tetanus vaccines to injured individuals. 
Philippine Red Cross volunteers provide water in City Central School in Cagayan de Oro City, northern Mindanao. Around 700 families were displaced from various communities in the city after Vinta passed through at the end of last week. (Photo: Philippine Red Cross via Twitter)