Saleemul Huq, 1952–2023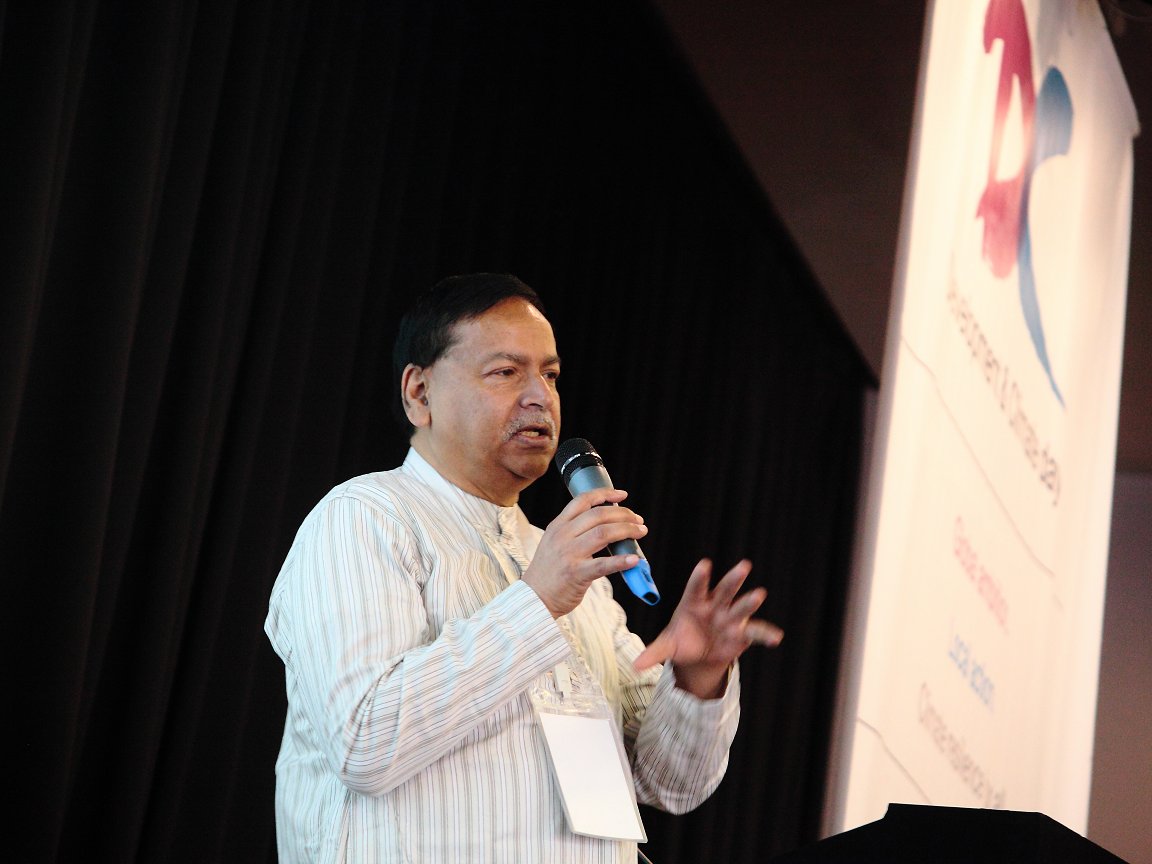 31 October 2023
By the Climate Centre

Professor Saleemul Huq, described as a torchbearer in Bangladesh's and the world's struggle against climate change and a great friend of the Red Cross Red Crescent Movement, has died at his home in Dhaka at the age of 71.
Well known for being one of the few people to have attended all 27 COP meetings in person going back to 1995, Professor Huq was a prolific author who published a huge range of papers on climate; he was among lead authors for the IPCC's third, fourth and fifth assessments of the global climate.
At COP 8 in Delhi, he jointly founded the Development and Climate Days event that is marking its 20th anniversary later this year at COP 28 and was a regular fixture at the D&C Days weekends.
He was last year included among the ten people who helped shaped science by the journal Nature, which described him as unofficial leader, for more than the last decade, of the 30-year-old campaign for a fund for loss and damage – finally agreed in principle at COP 27.
Huq, a professor at Independent University, Bangladesh, was a "visionary leader who was not only the torch bearer for Bangladesh's fight against Climate Change but for the entire global community. His unmatched legacy will remain as a shining example for years and generations to come," said a social media post from the International Center for Climate Change and Development, the Bangladesh-based research organization he headed.
'A tireless advocate for change and a kind and compassionate mentor to so many'
Ahmed Idris, Kenya Red Cross Secretary General and CEO, said on X/Twitter that he was "a true champion for the climate agenda. The Red Cross Red Crescent Movement has lost a great friend."
Acting Climate Centre Director Julie Arrighi said Professor Huq was "such a passionate and effective advocate for climate justice. He leaves a great legacy, not only in helping to shape climate spaces but also via the countless people he inspired and mentored over many years. He will be missed."
The centre's Associate Director, Bettina Koelle, said he would "be missed as a friend, a fierce and brave fighter for justice, a tireless advocate for change, and a kind a compassionate mentor to so many."

Its new intern Samantha Strachan adds: "Just before I joined the Climate Centre I was in Bangladesh working alongside Professor Huq at the ICCCAD. It was a real honour to meet him and support the work that he and ICCCAD were pioneering.

"I will always appreciate the few conversations I was able to have with him one on one. He really cared for his country and was so passionate about climate action and supporting local youth."
Professor Huq also set up the climate change research group at the International Institute for Environment and Development (IIED) – joint organizers with the Climate Centre and others of the D&C Days events – and was the group's initial director, continuing as IIED senior fellow until 2021.
IIED executive director Tom Mitchell said: "There was no one quite like Saleem and I will remember his unique combination of warmth, generosity of spirit, academic prowess and enormous standing in climate science … He leaves an incredible legacy to us all in his body of work and spirit in the fight against climate change, and we will miss him deeply." IIED has opened on online book of remembrance.
Patrick Verkooijen, Chief Executive of the Netherlands-based Global Center on Adaptation, said Professor Huq was "the intellectual architect of what we now call locally led adaptation. Saleem is de facto the voice of the voiceless."
Saleemul Huq was born in Karachi into a diplomatic family in 1952 and grew up in Europe, Asia and Africa because of his parents' diplomatic postings as Bangladeshis, and moved to Britain as a young man to study botany at Imperial College London, where he received a doctorate in 1978.
'The voice of the voiceless'
Returning to Bangladesh, he helped set up the Bangladesh Center for Advanced Studies, focused on the environment, and encouraged the establishment of the government department that became the Ministry of Environment, Forest and Climate Change – in a country long regarded as one of the most vulnerable to climate impacts anywhere in the world.
He was awarded the 2020 National Environment Award by the Bangladesh government, and appointed OBE in the 2022 UK New Year Honours for services to the fight against climate change.
The Washington Post yesterday quoted from an interview it conducted with Professor Huq last year after the release of the IPCC sixth assessment: "That's one of the clearest things the scientific evidence shows about the impacts of climate change – the injustice of it. It affects poor people more than rich people, but it's caused by rich people's emissions."
Saleemul Huq at Development and Climate Days alongside COP 22 in Morocco in 2016. (File photo: Climate Centre)