Scientists: Climate change helped Hurricane Harvey generate most intense rainfall in US storm history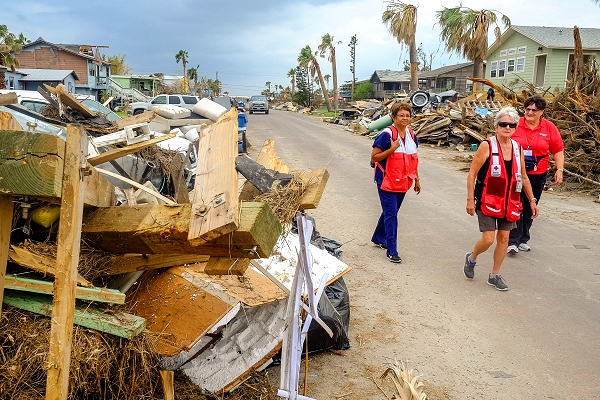 13 December 2017
Scientists with the World Weather Attribution (WWA) group today said human-caused climate change made the record rainfall that fell on Houston, Texas during Hurricane Harvey last summer "roughly three times more likely and 15 per cent more intense".
A new attribution analysis drew on data on observed rainfall and climate models, and confirms that "heavy rainfall events are increasing substantially across the Gulf Coast region because of human interference with our climate system," said Geert Jan van Oldenborgh, senior researcher at the Royal Netherlands Meteorological Institute (KNMI) and its lead author.
Hurricane Harvey, which made landfall as a Category 4 storm on 25 August, stalled over Texas, causing catastrophic flooding in Houston and the surrounding area.
Record rainfall was observed over a three-day period in late August: in Harris County, for example, 51.89 inches of rain was recorded over the six days to August 30 – the highest total for any storm in recorded US history.
During the first three days of Harvey, 41.07 inches fell on the Houston suburb of Baytown; more than 30 inches fell over a larger region, causing extensive flooding.
Flood infrastructure
The study (2-page summary) found that specifically for the city of Houston, because of topography and the local climate Harvey-level rainfall is still extremely rare or less than a one-in-9,000-year event, though it would have been much rarer still without climate change.
But the theoretical frequency of this much rainfall somewhere in the whole US Gulf Coast region is much higher, at less than once a century, also now higher than it would be without climate change.
The rainfall record since 1880 over the region shows a positive trend in the intensity of extreme precipitation.
Models confirm this is due mainly to human-caused global warming: the chances of rainfall as intense as Harvey's have tripled – or are between 1.5 and five times more likely – since the 1900s, and the intensity of such events has increased roughly 15 per cent.
"These results make a clear case for why climate change information should be incorporated into any plans for future improvements to Houston's flood infrastructure," added Antonia Sebastian, a scientist at Rice University's SSPEED Center in Houston and a co-author.
"The past is no longer an accurate predictor of present or future flood-related risks."
'Ultimate impacts'
Even if the targets set by the 2015 Paris climate agreement of limiting global warming to 2°C are met, the scientists say, it's estimated that an event like Harvey will see a further threefold increase in probability.
"But, if we miss those targets, the increase in frequency and intensity could be much higher," said Karin van der Wiel, a KNMI researcher and a co-author of the Harvey study.
"Although the rainfall levels from Harvey are extremely rare, additional factors, such as rapid population growth, urban growth policies and aging water management infrastructure further exacerbated the ultimate impacts of this storm," said Climate Centre Director Maarten van Aalst.
"Damage from storms like Harvey, Ike in 2008, and the Tax Day Flood of 2016 [which coincided with the deadline for filing US tax returns] illustrate the importance of managing exposure and vulnerability when reducing the level of flood impacts in Houston," added Van Aalst.
American Red Cross volunteers go street-to-street to check on residents in September in Port Aransas, Texas, which was badly affected by Hurricane Harvey earlier this year. (Photo: Chuck Haupt/American Red Cross)