IFRC and Boao Forum for Asia host round table on youth-led climate action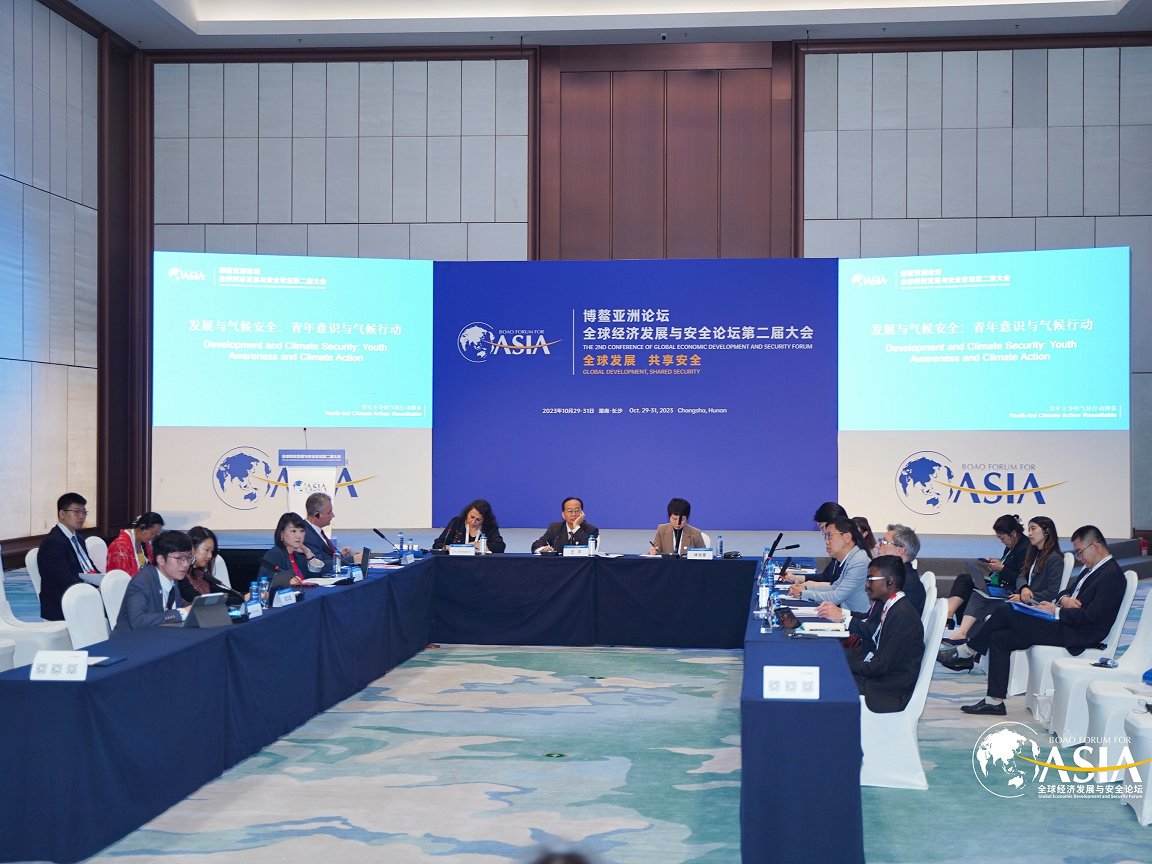 3 November 2023
By the IFRC

The IFRC and the Boao Forum for Asia this week jointly hosted a high-level youth-led climate action round-table at the BFA's second Global Economic Development and Security Forum in Changsha, the Hunan provincial capital. It brought together a variety of representatives to discuss youth-led solutions in addressing pressing climate challenges.
Wang Ping, Vice-President of the Red Cross Society of China, said in opening remarks: "Young people are the main implementers of future global climate action and the backbone of society. We need to vigorously provide a platform to encourage Red Cross Red Crescent youth to actively participate in work related to climate change."
'We are promoting youth engagement in our climate actions as people we support, as volunteers, as leaders'
Home to 55 per cent of the world's young people, according to the Asian Development Bank, the Asia Pacific region must put young people at the heart of climate action by inspiring the world with their drive, creativity, and passionate advocacy in addressing the climate crisis, round-table organizers said.
China's National Climate Change Adaptation Strategy 2035 emphasizes climate adaptation activities at schools, while Tsinghua University is a founder member of the Global Alliance of Universities on Climate.
Jialei Lin, Deputy Head of the IFRC East Asia Delegation, said: "Addressing climate and environmental crises is a top priority in the IFRC Strategy 2030. In line with its strategy for youth engagement, we're promoting youth engagement in our climate actions as people we support, as volunteers and as leaders."
The round table was facilitated by Aditi Kapoor, IFRC climate expert and former technical adviser at the Climate Centre.
Other speakers came from government agencies, corporations, financial institutions, international organizations and social organizations; Andrew Forrest, a Boao board member, also made an opening address.
'Mutual trust'

Red Cross Red Crescent Movement participants included: Yvan Grayel, Preparedness and Resilience Coordinator with the IFRC East Asia Delegation; Luca Falqui, Head of Health for China and the Korean Peninsula with the ICRC Regional Delegation for East Asia; Li Siu Tin Sky, Acting Section Leader, Red Cross Youth Unit with the Hong Kong Branch of the Red Cross Society of China; and Hussain Yoosuf, Vice-Chair of the Kulhudhuffushi branch of the Maldivian Red Crescent.

Meng Jingbo, from the Global Development Promotion Center of the China International Development Cooperation Agency, introducing the Youth Leaders' Community for Global Development, said: "I sincerely hope we could enhance our communication and mutual trust through the shared platform of the YLGD, focusing on development issues, [with the young] playing a greater role in our pursuit of stronger, greener and healthier global development and a better world."
The IFRC and the Boao Forum for Asia youth-led climate action round-table at the BFA's second Global Economic Development and Security Forum. (Photo: Boao Forum for Asia)