Y-Adapt pilots' global launch in Haiti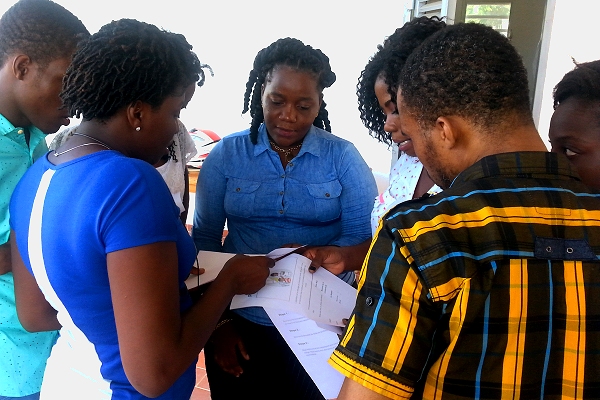 1 December 2017
The global launch of pilots of the Y-Adapt programme for engagement by young people in action on climate change took place in the northern Haitian city of Cap-Haitien in October, at a new regional training centre for the Haitian Red Cross (HRC), built with support from the American Red Cross.
The inaugural pilot was led by two facilitators from the HRC Nord branch, Edwin Alexis and Rose-Guynise Descenna, among a group of national Y-Adapt facilitators formed in July at a 'training of trainers' in Port-au-Prince. 
Y-Adapt comprises games-based sessions to inspire young people to develop strategies for climate adaptation and advocacy in their own communities; further pilots are being explored involving the National Societies of Iran, Kenya, the Philippines and Uganda.
A second Haitian pilot facilitated by the HRC's Guerdy Dorsaint was planned in the Nord-Est department capital, Fort Liberte.
Also taking part in the Haitian Y-Adapt pilots is HRC National Youth Coordinator, Elisee Pierre, while the Climate Centre, is supporting assessment and validation of the methodology.
'Taster session'
Senior HRC Nord-branch figures judged the Y-Adapt competitions in the pilot, offering feedback and insights on adaptation in the Haitian context.
A Y-Adapt taster session, meanwhile, was included in the HRC annual youth forum for all branch coordinators, supported by the Swiss Red Cross, organized by Elisee Pierre, Valencia Estime and Paul Harry Jeanty, who all participated in the July training session.
The forum selected three examples of youth-led adaptation strategies from around the world as most relevant to the Haitian context:
* Advocate for learning to swim in Bangladesh to save lives during floods
* Community gardens in Niger to provide food and income during the dry season
* Street mapping of danger areas during storms and floods in the Philippines.
Plans are underway for Y-Adapt to be rolled out in HRC branches, and discussions are also being held with Haiti's Ministry of Education to support school curricula and include information from national planning for adaptation.
Young Haitian Red Cross volunteers discuss successful examples of climate adaptation from around the world at a Y-Adapt session in October, when the global launch of pilots of the Y-Adapt programme for engagement by young people in action on climate change took place in the northern city of Cap-Haitien. (Photo: HRC)