Opinion: At 'inside out' UN climate talks, action taking spotlight from negotiation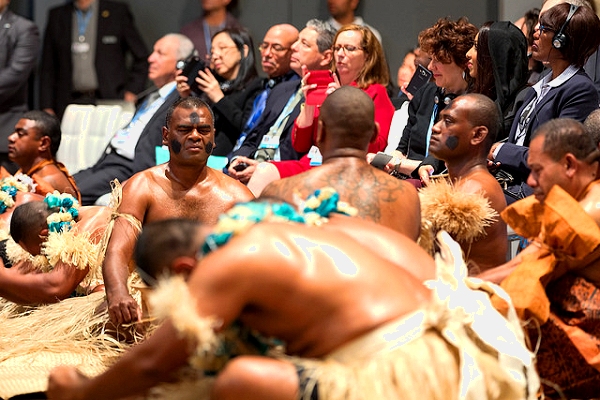 27 November 2017
(A BRACED/PfR webinar today Tuesday, hosted by and , covered many of the issues raised in this op-ed. A recording of the global webinar, 'Shaping the global climate action agenda on resilience: What's next after COP23?', is now available online.)
Earlier this month, I was privileged to lead the IFRC delegation at the UN climate talks in Bonn – the 23rd Conference of the Parties to the 1992 UN Framework Convention on Climate Change, to give it its full name.
COP23, under the presidency of Fiji, was only the second session since the historic Paris agreement was struck in 2015, but already I believe we can detect the beginnings of a sea change in the general emphasis away from the slightly stuffy atmosphere of formal negotiation.
With an ambitious global deal on climate now not just agreed but ratified, the outside world is entitled to ask how we justify nearly 20,000 people getting on planes and trains to gather to discuss…what exactly?
The answer in a word: implementation.
Historic though it was, Paris will not be worth the paper it's written on without implementation – by an uncountable myriad of individuals, companies, civil society groups, and governments. We all have to do our bit.  
Expanded global commitment must include local delivery,
to cities, businesses, communities, families –
thousands of millions for millions of thousands
There was a noticeable buzz in the Bonn Zone at COP23 where a huge variety of people met, gathered, exhibited, and on occasions sang and danced, as opposed to the formal Bula Zone for official negotiators only.
Our Climate Centre friend and colleague Saleemul Huq – Director of the Dhaka-based International Centre for Climate Change and Development – now speaks of an "inside out COP" at which the environmental groups, researchers and businesses (I would add humanitarians) either implementing Paris or pressing for it "should be put centre-stage, and the official government negotiators left on the sidelines, as there's no longer any major deal to be negotiated," just details. 
There is also now the question of money gradually creeping up the COP agenda.
What we did not see in Bonn was much new flesh on the bones of the rich world's collective pledge of US$ 100 billion a year to help the developing world become more resilient and less dependent on fossil fuels.
Within such financing as there is, too little is directed towards building resilience amid rising climate risks.
Our own Secretary General, Elhadj As Sy, speaking at one of the three high-level panels centring on resilience, reminded us that it's clear that risks are already changing, but "the question we have to ask is: Do shocks and hazards have to become disasters?"
Unfortunately, in the formal discussions little progress was made on these financial commitments for resilience.
Officials from wealthy nations "refused to look at innovative taxes or other ways to help poor countries pay for growing losses from climate disasters, offering instead insurance options," a Reuters round-up on the Bonn said.
Insurance choices
And insurance is indeed a new area taking a more prominent role – an important example being the InsuResilience initiative, announced by Chancellor Merkel at the G7 summit in Bavaria in 2015.
The InsuResilience Forum actually contained one of the most enlivening side-events of COP23 – somewhat paradoxically since insurance per se is rarely seen as exactly a 'fun' topic.
But enter our treasured colleague Dr Pablo Suarez and his game of insurance choices for climate risk: Given a US$ 20 million budget – each million represented by one standing person – could the officials, bankers, development practitioners and researchers attending the session decide how much to spend on development and how much on insurance?
Catastrophe insurance for big disasters cost US$ 1 million, but a more comprehensive policy covering all disaster risks could be had for US$ 3 million. Outsize red and yellow dice decided the outcomes.
"Fun is functional," said Pablo later. "Games can help people engage. Brainpower gets engaged when you take actions with consequences."     
But of course the reality is anything but funny. The human and material toll of recent disasters like the hurricanes in the Caribbean and US and the South Asian monsoon reminds us that we have to do better.
This is where the actuarial expertise of the insurance industry can help. At another panel in Bonn, Simon Young of the Insurance Development Forum pointed out that the great strength of the insurance sector was that it can price risk.
Quite. We in the Red Cross Red Crescent have been saying for years now that risks are generally rising, but the time has come to try to be more specific about which risks, and to what extent they are rising.
We have been attempting to do this through innovations such as forecast-based financing and climate attribution.
'High-value actions'
It's clear, however, that private insurance is not an alternative to promised climate finance; alongside ways of absorbing risk, we'll need massively greater investment to anticipate shocks and reshape societies to become more resilient.
This includes risk reduction as well as diversification of livelihoods, social protection, and – for unavoidable disasters – effective early warning and response.
It was precisely this message about investment that emerged from the high-level roundtables in Bonn: A blend of governments, mayors, CEOs, multilateral organizations, humanitarians and local voices united around a commitment to build resilience and scale up investment from millions to billions, and even, over time, trillions.
But as Filipe Nainoca of the Fiji Red Cross pointed out in one panel, his volunteers and the vulnerable communities they serve "often lack the very small amounts of money for critical high-value actions at the local level".
Expanded global commitment must, therefore, include small–scale delivery to cities, businesses, communities, families: thousands of millions for, as it were, millions of thousands.
This is the local action we'll be looking for over the next few years, and the Red Cross Red Crescent is ready to help bear the torch.
Delegates at the COP23 meeting in Bonn are treated to a traditional Fijian welcome. Action – and progress in implementing the Paris agreement – may be gradually taking over from negotiation as the focus of attention in the UN climate sector. (Photo: UNFCCC)