Ecuadorean Red Cross embraces forecast-based financing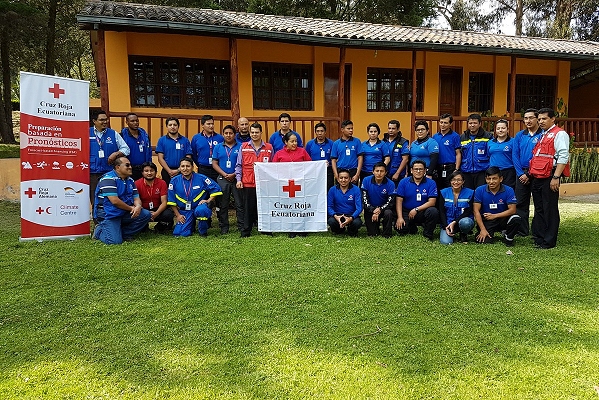 24 November 2017
The Ecuadorean Red Cross (ERC) on Wednesday became the second South American National Society after Peru's to embrace the forecast-based financing operating model – and the first in the world to use it for a volcanic hazard.
The ERC convened a meeting in Quito of more than 80 people from the Red Cross and a wide range of partners for the official launch of FbF, supported in Ecuador and in other countries by Germany's Federal Foreign Office and Red Cross.
Partners from national and local government, scientific institutions, academia and voluntary groups saw the ERC sign an agreement with National Institute of Meteorology and Hydrology (INAMHI) and the Geophysical Institute (IGEPN).
Ash cloud
FbF in Ecuador – a country with many active volcanoes – centres on hazards related to volcanic ash clouds, whose spread depends largely on wind speed and direction.
"In the event of a volcanic eruption, these weather indicators can be forecast and early action taken in the window of opportunity between an eruption and ash settling in any given location," IGEPN expert Ben Bernard told the meeting.
INAMHI Director, Captain Jose Olmedo, highlighted the special importance of forecasts before extreme events.
The Deputy Director of the Naval Oceanographic Institute, Captain Jhony Correa, presented the latest advances in forecasting El Niños, while the German Red Cross and the Climate Centre shared lessons and recommendations from the ongoing FbF programme in Peru.
Ecuadorean officials say they are looking forward to learning more about the design and implementation of FbF actions and exploring other hazards that can be forecast.
Extreme cold
In Peru, meanwhile, the second phase of FbF was launched today (Friday), including an important new agreement for an 'Alliance for Action' between the Peruvian Red Cross and other partners to improve preparedness for extreme weather.
FbF has been deployed several times in Peru over the past two years for floods linked to El Niño and snow and extreme cold.
"We warmly welcome the Ecuadorean interest in forecast-based financing," said Climate Centre Director Maarten van Aalst.
"Experience in Peru and around the world has demonstrated the benefits of this innovative approach by enabling both effective early action by the Red Cross and Red Crescent ahead of disaster, and dialogue between forecasters and those who need to understand and act on their information."
The ERC convened a meeting of more than 80 people including partners from national and local government, scientific institutions, academia and voluntary groups for the official launch of German-supported forecast-based financing in the country. (Photo: ERC via Twitter)