Red Cross Red Crescent pledge on climate at COP23: We'll track operational, scientific and policy landscape as part of 'pivotal role'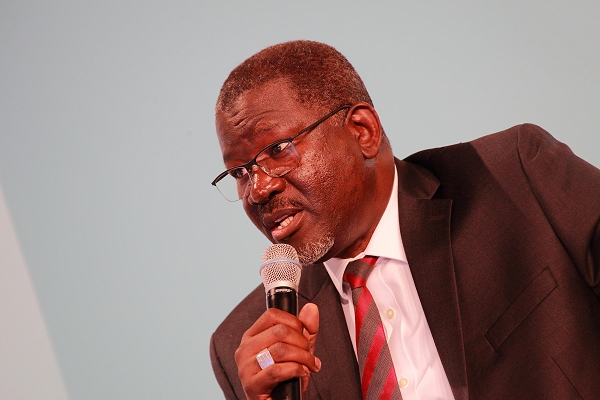 14 November 2017
IFRC Secretary General Elhadj As Sy today described climate change as "a key driver of risk" in the modern world, saying his organization's role in addressing the needs of the most vulnerable people afflicted by climate impacts will become "still more pivotal".
Mr Sy – in Bonn for the COP23 UN climate talks – pointed out that more than 90 per cent of natural hazards are now regarded as climate-related, and demand for Red Cross Red Crescent humanitarian services is likely to surge.
Writing in a foreword to the IFRC's new Framework for Climate Action Toward 2020 (summary), Mr Sy says that in the last ten years "National Societies have taken great strides in integrating climate risks in their operations and engaging with governments and other partners."
The IFRC budget for the next four years provides for continued support for them "in their auxiliary role to contribute to the implementation of the Paris Agreement". 
            'We don't own this planet, and if we're responsible
                                   we'll look after it for the next generation'
The framework, Mr Sy writes, sets out the IFRC's plan "to keep pace with the changing operational, scientific and policy landscapes on climate, defining a stronger role for the Red Cross and Red Crescent Movement both through programmes in the field and advocacy in the corridors of power."
It was issued to coincide with three COP23 side-events on resilience organized by partners of the UN initiative on climate resilience known as 'A2R' – which include the IFRC and its Climate Centre – focusing on investment yesterday, then today small island and other vulnerable states and working with nature.
In remarks at the first of Tuesday's sessions, Mr Sy said: "The question we have to ask ourselves is: Do shocks and hazards have to become disasters?
"It's our level of preparedness, the early-warning systems we have, and most importantly the early action we take" that will help answer that.
A press release today from A2R agencies said that in 2017 "hurricanes in the Caribbean, monsoons in Asia, and storms in North America demonstrate the increasing impacts that communities across the world must be prepared for, and that action to build resilience for the most vulnerable is urgent."
Accessible finance?
Prominent voices from COP president Fiji have also been heard this week on the importance of resilience.
In the same A2R statement, the Pacific nation's Climate Champion, Inia Seruiratu, Fiji's agriculture minister said, "For all of us, but especially in vulnerable areas such as the Pacific, working together to build resilience is more urgent than ever before."
Yesterday, at the first of the three resilience events, the Director General of the Fijian Red Cross, Filipe Nainoca, stressed that it was ultimately local actors who would be implementing the Paris agreement on the ground, so it was particularly crucial for climate finance to be made accessible to communities.
The IFRC's Secretary General was asked to sum up the Tuesday panel that also included Mr Seruiratu as well as Mary Goretti Kitutu, Uganda's environment minister, Ibrahim Thiaw, a UN assistant secretary general, Gale Tracy Christiane Rigobert, Saint Lucia's education minister, Rommel Lo, representing the EFFATA organization that works with deaf people in the Philippines, Jane Madgwick, Wetlands International CEO, and Simon Young of the Insurance Development Forum.
It was chaired by Clare Shakya, climate chief at the UK-based International Institute for Environment and Development – joint organizers with the Climate Centre of Development and Climate Days (D&C Days) that ended in Bonn Sunday.
'Paradigm shift'
"We don't own this planet," Mr Sy concluded, "and if we're responsible we should look after it for the next generation.
"That partnership calls for solidarity. It calls for sharing – of knowledge, resources, and also sharing power.
"It calls for a paradigm shift and it calls for innovation, like forecast-based financing for one, matching meteorological information with local knowledge for another, and the use of technology."  
Calling for greater empathy with communities to whom promises had "so many times" been broken, Mr Sy finally introduced Kiribati Red Cross volunteer Esther Nabuti to – as she did at the end of D&C Days – close the high-level session by reading her poem My Beloved Island.
"We don't own this planet," IFRC Secretary General Elhad As Sy told a high-level event centred on resilience at COP23 in Bonn on Tuesday (pictured), "and if we're responsible we should look after it for the next generation. (Photo: Alex Wynter/Climate Centre)