WMO: El Niño expected to persist until April 2024 at least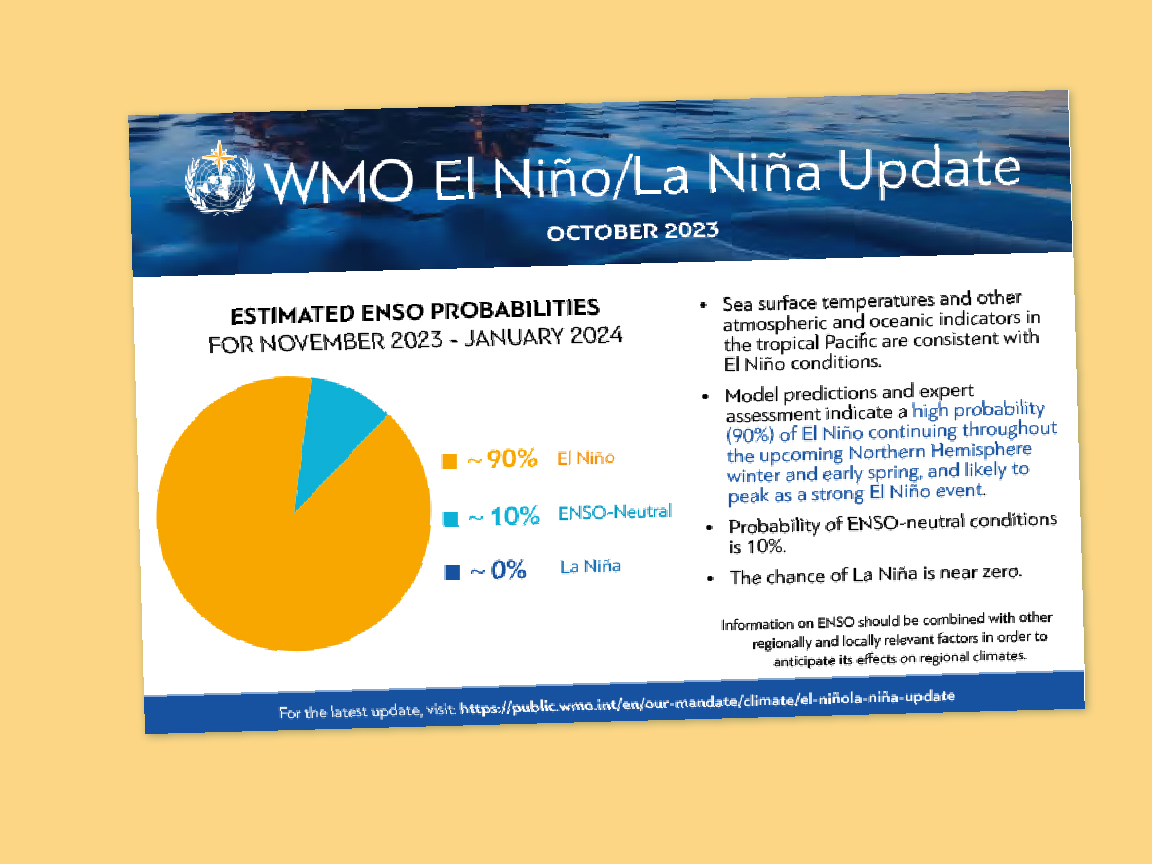 8 November 2023
By the Climate Centre
The current El Niño event that developed from July is expected to persist at least until April 2024, influencing weather and contributing to a further spike in global temperatures, the World Meteorological Organization said today.
The WMO's latest El Niño/La Niña Update anticipates El Niño will gradually diminish during the northern hemisphere spring, but with a "high likelihood" of continued warming in the central and eastern equatorial Pacific up to April.
El Niño – a naturally occurring climate pattern associated with Pacific Ocean warming – occurs on average every two to seven years and typically lasts nine to 12 months.
WMO Secretary-General Petteri Taalas said: "El Niño impacts on global temperature typically play out in the year after its development, in this case in 2024. But as a result of record high land and sea-surface temperatures since June, the year 2023 is now on track to be the warmest on record. Next year may be even warmer.

"This is clearly and unequivocally due to the contribution of the increasing concentrations of heat-trapping greenhouse gases from human activities."
The previous warmest year on record was 2016 due to the combined effect of an exceptionally strong El Niño and climate change.
'Records obliterated'

A strong El Niño does not necessarily mean strong impacts locally, the WMO notes, while the magnitude of El Niño indicators do not directly correspond to the magnitudes of its impacts. "No two El Niño events are alike."
Predictions for rainfall over the next three months are typical for El Niño, WMO says.
Meanwhile, also today Samantha Burgess, Deputy Director of the Copernicus Climate Change Service, said: "October 2023 has seen exceptional [warm] temperature anomalies, following on from four months of global temperature records being obliterated.

"We can say with near certainty that 2023 will be the warmest year on record, and is currently 1.43ºC above the pre-industrial average. The sense of urgency for ambitious climate action going into COP28 has never been higher."
Infographic courtesy WMO