'Higher than before, bigger than before': Fiji climate impacts detailed at D&C Days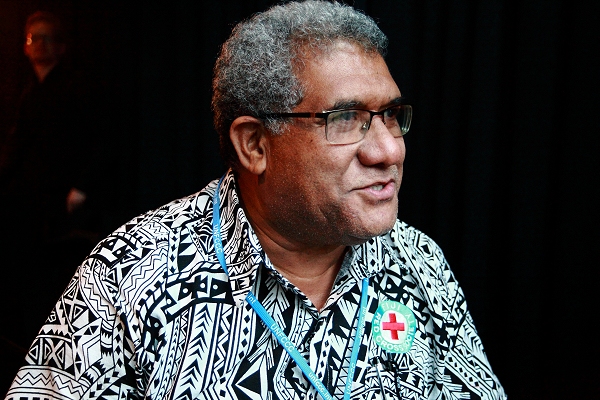 13 November 2017
Filipe Nainoca, Director-General of the Fiji Red Cross Society (FRCS), says Fijians have a neat way of summing up the climate impacts they and other Pacific islanders face: "Higher than before, bigger than before." 
This handy aphorism applies not just to headline-grabbing extreme events like last year's Tropical Cyclone Winston – comfortably the worst storm on record in the Southern Hemisphere and a disaster from which the Fijian National Society is now emerging after the official recovery phase of its operation.  
It's also true of the largely unreported impacts of which the outside world hears little if anything.
Mr Nainoca cites regular king tides that reach further inland and increase the salinity of the soil, as well as general economic impacts of climate change that are difficult to quantify. 
Speaking at Development and Climate Days alongside COP 23 in Bonn, of which his country is this year's president, Mr Nainoca emphasizes that all Fiji is focused on one goal: "Staying with 1.5 degrees."
The Paris agreement's more aspirational goal, that is, of pursuing efforts to limit global temperature increase to 1.5 degrees Celsius, beyond the 2-degree threshold.
"I know that the whole of the Pacific and our prime minister are concentrating on getting people here [Bonn] to stay focused on that."
Capacity
A further humanitarian challenge Fiji faces, he says, is the prospect that it may one day be asked to resettle climate refugees from other even more vulnerable Pacific islands.
"We just don't want the temperature increasing," he says, with arguable restraint.
There was some good news in the aftermath of Winston, however, and the surge of international assistance that enabled the FRCS, for the first time, to mount a full-scale recovery operation as well as a response.
"TC Winston actually grew our National Society," he explains. "We'd never done recovery before – only immediate response.
"Normally within a month of a disaster we'd pack up and finish, but with Winston we went into recovery mode and stayed with it for a year."
He says FRCS capacity has now grown to the extent that it would be "more comfortable" dealing with large-scale disasters in the future. "Next time around we're hoping to do so much more than what we used to do."
'Moment of truth'
Other lessons have been learned from Winston, he adds: how to build new storm-resistant 'core shelters', for example, that supplement the Fijian government's 'Help for Homes' programme; 35 have been completed to date with a further five planned.
The first things to go in a storm, Mr Nainoca explains, are "the flimsiest" ­­– the external, upright WCs with high centres of gravity that simply blow away like litter.
"This becomes a real health issue," he says, "and water and sanitation were a key aspect of TC Winston, and the FRCS started building more solid community toilet-facilities that people now really value."   
And it does seem clear to Fijians that there will be a "next time round" without drastic global action, and soon.
"All over the world, vast numbers of people are suffering – bewildered by the forces ranged against them," Fiji's Prime Minister Frank Bainimarama said in an opening statement as COP president.
COP23, he said, is "a moment of truth".
The Director General of the Fiji Red Cross Society, Filipe Nainoca, pictured here at D&C Days in Bonn, says Fijians want the world to be ambitious at COP23 and stick with the goal of limiting global temperature increase to 1.5 degrees. (Photo: Alex/WynterClimate Centre)