D&C Days in Bonn ends with call for 'truly transformational' commitment by donors (and a poem)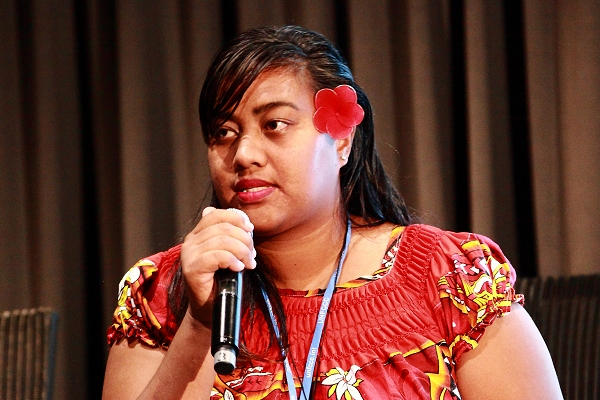 13 November 2017
The 15th Development and Climate Days (D&C Days) workshop ended in Bonn yesterday evening with a call from the chair of the traditional high-level panel, Mary Robinson, the former president of Ireland, to all participants to "hold ourselves accountable" for progress on climate action.
Also on the panel – this year shared with representatives from civil society and the private sector – was her compatriot Michelle Winthrop of the Irish Department of Foreign Affairs, who called for a voluntary commitment from donors to be transparent about the amount of climate finance reaching local communities "at the front line of climate action".
"That would be truly transformational," tweeted Clare Shakya, Climate Change Director at the International Institute for Environment and Development, joint organizers of D&C Days, which began on Saturday.
"Listen up COP 23," she added.
Sharing the panel with Ms Winthrop and Ms Robinson, whose Mary Robinson Foundation – Climate Justice (MRFCJ) is also a joint organizer of the event, were: from Kenya, Agnes Leina, Executive Director of Illaramatak Community Concerns, and Mumina Bonaya of the country's Adaptation Consortium; Sheela Patel, Mumbai-based chair of Slum and Shack Dwellers International; Diane Holdorf, the Kellogg company's sustainability chief; Makgale Pokwane, a rural development specialist from South Africa; and Hartwig Schafer, an economist with the World Bank and himself a farmer.
Personal message
The panel brought together the four main themes of D&C Days – resilience through empowerment and access, valuing local experience and knowledge, downward accountability, and resilience – highlighting "key messages and actions required to ensure that global ambition translates into local action and delivers climate resilience for all," according to the programme.
In their individual presentations and a Q&A session with the 250-strong audience, the panellists focused on ways of ensuring that "we deliver on the commitments set out by United Nations Framework Convention on Climate Change".
Also on the D&C Days closing panel was a Red Cross volunteer from Kiribati, Esther Nabuti, 29, who had sent a personal message to the UN climate talks from the Pacific Youth Climate Forum in September and has been seconded as a Kiribati delegate at the talks in Bonn.
Yesterday, at the very end of the two-day D&C Days workshop, she read a new message to the world, this time in verse in the form of her new poem, My Beloved Island:
My beloved island
The land of my ancestors
You may be small and full of scars
But you are strong
You are blessed by the rays of the sun
You are comforted by the light of the stars
My beloved island
The land of my children
You are full of love and peace
Filled with hope as deep as the ocean
My beloved island
The land of my dreams
You are my one
You are my only
Kiribati Red Cross volunteer Esther Nabuti reads her poem My Beloved Island at the end of D&C Days in Bonn yesterday. (Photo: Alex Wynter/Climate Centre)