'Climate change and the weather extremes it brings is not the future: it's the present. It's our reality'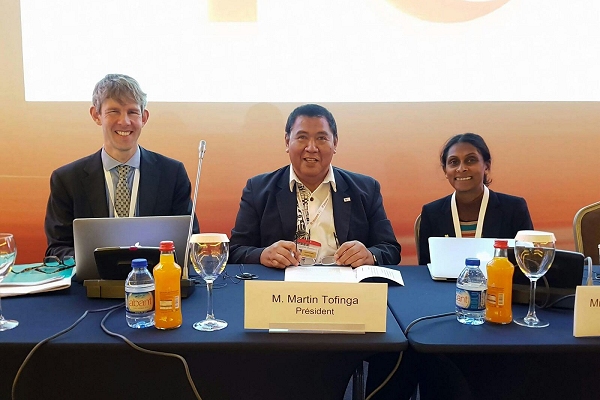 10 November 2017
The president of the Kiribati Red Cross, Martin Tofinga (pictured, centre), today told a workshop at the Council of Delegates in Antalya, Turkey, that "building resilience to disasters and climate is not just a priority – it's the only path ahead."
The workshop, the first at a Council of Delegates to feature an interactive format involving discussions by participating Red Cross Red Crescent leaders, addressed the theme of "Setting the resilience agenda: Showing leadership in disaster and climate policy".
Climate change and the weather extremes it brings, Mr Tofinga said, "is not the future: it's the present. It's our reality."
Mr Tofinga said his National Society had recently completed a revision of legislation governing its operations – soon to be voted on by MPs – that would "strengthen our position as auxiliary to our government in taking actions on climate change and risk reduction".
If climate-related disasters like the ones seen this year were an indication of what lies ahead, he told the Council of Delegates audience, then "we will need to reduce demand, to reduce risks, and to build resilience."
Mr Tofinga added: "We will use this session [in Antalya] to look ahead to how National Societies can better harness their auxiliary role to influence laws, policies and plans to manage disasters, tackle rising climate risks and ultimately build more resilient communities."
'Pacific reality'
He recalled that at past International Conferences, governments had repeatedly invited National Societies to support them in setting the resilience agenda – including "strong and effective disaster law and policy goals to address the humanitarian dimensions of climate change".
In turn, National Societies had exercised increasing influence on law and policy in at least 25 countries, and on planning for adaptation in many others.
A statement later read at the workshop on behalf of the Pacific Youth Climate Forum held in Kiribati in October said the climate change issue was becoming "more and more urgent".
Red Cross youngsters from 13 Pacific island nations said: "Our homes are being threatened, with the ocean now reaching our door, salt contaminating our wells, and droughts affecting our crops.
"This is our daily reality, and things are getting worse. This is a story we have told many times before, however, nobody is listening and time is now running out.
"The consequences of our world's behaviour is the Pacific's reality."
The two-day Council of Delegates ends tomorrow Saturday; the conclusions of the workshop on resilience will be included in a final report.
Martin Tofinga, president of the Kiribati Red Cross, tells a 2017 Council of Delegates workshop in Antalya that building resilience to disasters and climate is "the only path ahead". On his left is Sharonya Sekhar from the Canadian Red Cross, rapporteur for the session, and Climate Centre Director Maarten van Aalst on his right. (Photo: IFRC)