At Bonn COP meeting, Pacific youth want world to act on climate change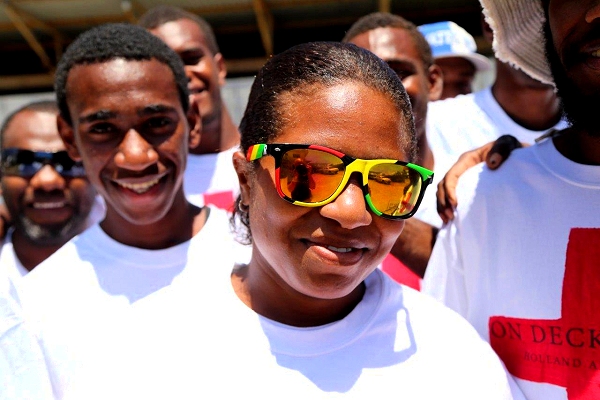 7 November 2017
(This story appeared first last month on the IFRC website. It has been edited here for time references.)
Esther Nabuti, a young Kiribati Red Cross volunteer, has a message for the world: "I want the world to know what is happening in Kiribati, what climate change is doing to my beautiful home. I want to invite the world here, so they can see its impacts, its scars.
"I wonder, would they let this happen to their home? I want to tell them the Pacific is their home too.
"My Pacific is their Pacific."
Climate change across many Pacific islands is a reality. In Kiribati, one of the islands most affected by a changing climate, 49 Pacific youngsters came together in October for the Red Cross Pacific Youth Climate Change Forum.
Led by the Red Cross Pacific Youth Network, the forum featured poets, journalists, scientists, environmentalists and community leaders, who inspired and empowered participants to develop skills to speak out and take action on climate issues.
The youth also got hands-on experience planting mangroves, which can protect against storm surges, and designing climate change response and adaptation projects to use in their own communities.
'We are young'
Red Cross Asia Pacific Youth Commissioner Pearl Li, from Australia, says the forum was a simple and powerful way to get young people thinking about how they fit into the climate change issue, and how they can make a difference.
"Youth might not always think we have the resources and means to take on issues like climate change, but we do," says Pearl. "We need more young people getting involved and volunteering to help make our communities stronger and more resilient.
"We are young, we are full of hope and optimism for our future, we know we have an important role to play – we are ready." 
The Pacific Youth Network will now roll-out learning from the forum with activities and projects to address climate issues in their own neighbourhoods.
Tab Berg, a participant from Cook Islands Red Cross says the forum has given her tools and inspiration to get her community involved.
"I hear the words 'climate change' a lot," says Tabitha, "but it is only now that I appreciate what they mean. 
"I have started making a video about the forum to share online, and will use the climate change activities with my community.
"Getting more young people engaged with this issue needs to be a priority. If it can interest and inspire me, it will have the same effect on others."
'Climate stresses'
The voice of the Pacific youth will resound globally as Esther represents Kiribati and the Pacific at the IFRC's General Assembly in Turkey and the COP23 meeting in Germany.
She says she hopes that through meeting world leaders and decisionmakers, she can bring them closer to climate issues and the action that needs to be taken: "I understand it is hard to feel connected to an issue that you have never experienced.
"Our Pacific people have seen these issues first-hand. We have been dealing with climate stresses for generations and tackling them with all our strength, but we need to do it together, as one world."
The Pacific Red Cross Youth Climate Change forum was generously supported by the Pacific Islands Forum Secretariat and the European Union.
Young Vanuatu Red Cross volunteers gather in March 2015 to carry out assessments after their Pacific island nation was hit by Cyclone Pam. Despite the obvious damage, they reported being impressed by people's resilience. This week in Bonn youngsters from all over the Pacific are hoping the world will act on climate change. (Library photo: IFRC)