IFRC president's advice to successor: embrace change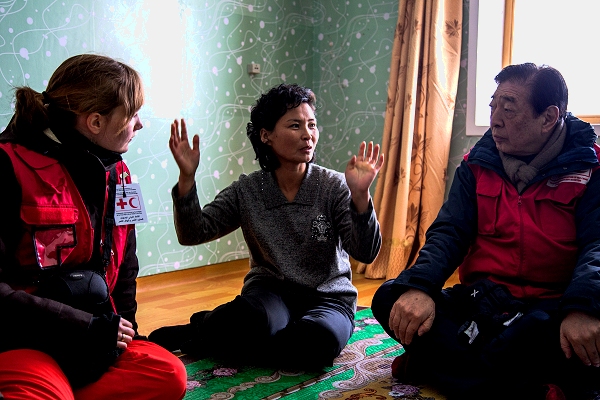 2 November 2017
(This opinion piece appeared first earlier today on the Devex website.)
This month, at a major global meeting in Antalya, Turkey, I will be out of a job. The IFRC General Assembly will elect a new president, and I will step aside.
This person will take the reins of the world's largest and oldest humanitarian network at a time of unparalleled humanitarian need and complexity. As the person who held those reins for eight years, I would like to humbly offer some perspective and advice that might be of use not only to my successor but to the humanitarian community as a whole.
The world today is almost unrecognizable from when I was elected in Nairobi in 2009. That was before the Haiti earthquake, before the Syrian civil war, before the earthquake and tsunami in Japan, before Ebola, before the high-profile mass movements of people fleeing conflicts, disasters, and violence.
The one constant through my term was change. As I look ahead now, the only thing I feel confident in predicting is more change.
So, with that in mind, my first piece of advice: embrace change. At a time of escalating humanitarian crises and constrained budgets and in an increasingly unpredictable world, humanitarians need to be more agile, more anticipatory, and more alert. We need to build organizations that are more fluid.
This person will take the reins at a time of
unparalleled humanitarian need and complexity
Second, we must step up our support to vulnerable migrants. Migration is the most politically charged and divisive issue of our time, and one with tremendous implications for the very nature of humanitarian work. Next year UN member states will finalize global compacts on migration and refugees.
There is still an opportunity to exert influence. Specifically, there is need for an emphasis on dignity and respect, even in the midst of combative debates. Surely everyone can agree that death, rape, and abuse is too high a price to pay for the hope of safety and opportunity?
Third, we need to go up several gears on disaster preparedness. This has been apparent for more than eight years. Our own experience tells us that a dollar spent in preparedness saves many more dollars in response. Why can't we step past the rhetoric and turn these ideas into concrete, scalable actions?
This is particularly scandalous given that we now have at our disposal remarkable innovations such as self-learning computer programmes that can predict disasters such as floods, and mobile applications that allow an up-to-the-minute flow of information of when disasters are imminent. Why are we not using them more often?
Attacks
Fourth, the world needs to start worrying about volunteers. Humanitarian volunteers, including Red Cross and Red Crescent ones, are very often the ones delivering aid on behalf of the humanitarian system. They are paying an unacceptably high price for their commitment and courage.
Since the beginning of the year, 29 of our volunteers have been violently killed on duty, including nine in one single incident in the Central African Republic, and four in the recent bombings in Mogadishu, Somalia.
Attacks on aid workers are forbidden under international law, and responsibility for preventing such incidents lies with states and the parties to different conflicts. However, the threat of violence is not the only reason for declining commitment to traditional volunteerism.
In recent years the very nature of volunteerism has changed. Whereas in the past people would choose an organization such as a Red Cross or Red Crescent and remain with it for years, young people now want to align themselves with causes. What's more, new technologies and social media make it easier for them to choose their opportunities, or create opportunities themselves.
This new generation of volunteers wants greater flexibility and a greater diversity of engagement opportunities. Volunteer-based organizations need to do more to fulfil these aspirations while ensuring that the volunteer spirit is not diluted or spread too thin. This is everyone's concern.
In all countries, volunteers bridge the gap between the most vulnerable and increasingly restrained social services. Losing them would be catastrophic.
Vision
Which brings me to my fifth and final piece of advice: be a champion for localization. We global humanitarians need to start trusting national counterparts, and we need to back that with increased investment and support.
As readers of Devex will know, nearly all humanitarian funding goes first to international organizations, with local groups typically treated as sub-contractors. The great shame here is that these groups, including National Red Cross and Red Crescent Societies, are often best placed to affect meaningful change. In addition to being present before, during, and after a crisis with access to people in need, they speak the local language, understand the local culture, and are committed to helping their neighbours during crises and providing long-term social services.
But simply increasing funding to them will not be enough. We need to ensure local organizations have the capacity and systems in place to do this work well. This too will require greater investment, but it will yield tremendous results.
I could, of course, go on. But I'll stop here with one final message. To the next leader who takes my place: I wish you luck. Being the president of the IFRC has been one of the great privileges and joys of my life.
As you begin your own journey, know that our entire Red Cross and Red Crescent Movement, and our partners in the UN, look to you. This includes the millions of Red Cross and Red Crescent volunteers around the world. They will look to you for leadership and vision. Stand with them. Listen to them.
We're with you.
                                                                                         *
This advice from President Konoe highlighting change as a key aspect of our times is hugely relevant in a changing climate, writes Climate Centre Director Maarten van Aalst.
His focus on preparedness, especially among local actors, including examples such as the machine-learning algorithms that can support early warning early action, is key to coping with increasing climate and weather extremes and rising uncertainties in a warming climate.
These links will be discussed at the forthcoming UN climate talks – COP 23 – being held in Bonn and hosted by Fiji, a small-island nation on the front line of this issue.
The statutory meetings of the Red Cross Red Crescent Movement will be the forum for discussion of the major humanitarian issues of our time, as President Konoe says, and climate is high on the agenda there too.
There will be session on climate at the IFRC's General Assembly feeding into its new Strategy 2030, and discussions on risk financing, including forecast-based financing, reflecting his advice on incentives for early action.
There's also a workshop on resilience in the Council of Delegates, and this, of course, includes the ICRC with its special focus on conflict areas, where vulnerability to extremes is rendered more acute still, but which are rarely within reach of strategies supported from global climate finance.
Tadateru Konoe and staff from the IFRC and the Red Cross Society of the Democratic People's Republic of Korea visit residents in their new flat who survived the floods that swept through the community of Hoeryong City in August 2016. Hong Chol Min, 42, and his wife Jo Hye Yong (pictured centre), 40, took shelter first under tarpaulins provided by the Red Cross. In late August, Hamgyong Province in the north-east of the DPRK was severely affected by flash floods caused by heavy rains. Hundreds of people died and some 600,000 were affected. (Photo: Mirva Helenius/IFRC)