Health impacts focus of Pacific Islands climate forum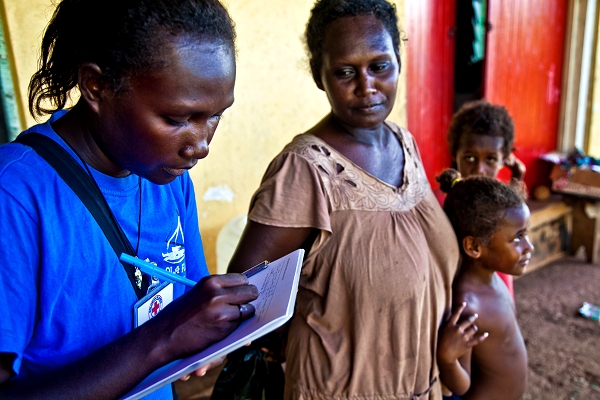 1 November 2017
Staying several steps ahead of possible health impacts from weather and climate was the focus of the third Pacific Islands Climate Outlook Forum in Apia, Samoa at the end of September.
The PICOF platform is coordinated by the Secretariat of the Pacific Regional Environment Programme (SPREP) in partnership with World Meteorological Organization and the Pacific Met Desk Partnership.
The meeting brought together representatives from meteorological and health sectors – including Red Cross societies – to share information about the outlook for climate and cyclones for the coming season. 
The forum followed a busy year for the Red Cross in the Pacific, with campaigns on dengue response and awareness, in collaboration with health ministries, in the Solomon Islands and Vanuatu reaching at least 26,000 people.
Above-normal rainfall in some areas is thought to have increased mosquito breeding sites, contributing to dengue outbreaks.
Interactive sessions
Long-term climate change was another focus, as highlighted by Abhishek Rimal, the IFRC's Health Manager in the Pacific.
He said: "There is increasing evidence that climate impacts are affecting human health in the Pacific by increasing all kinds of disease, not just through increases in vector-, water- and food-borne disease such as ciguatera, but also by potentially increasing risk of non-communicable cardiovascular disease and diabetes – the leading cause of mortality in the Pacific Islands.
"Climate change can reduce the availability of locally grown food, leading to greater consumption of high-calorie and energy-dense food."
Building strong relationships between meteorological and health services for earlier and more effective action on the ground to address the impacts of climate on health was a key output.
"Some of the specific objectives of the forum include identifying the needs of the health sector for climate services, discussing opportunities for integrating climate change information for health services, and how representatives from the sector are using climate information," said Sunny Seuseu, an SPREP meteorologist.
SPREP and the Climate Centre worked together to design interactive sessions where health professionals and meteorologists discussed their needs for information and ways of improving access to tailored climate information.
Business plans
"Sector colleagues are often able to access weather and climate information from their national meteorological services, but understanding the information and knowing what actions to take can be challenging," said Azarel Mariner, a specialist in capacity development at SPREP. 
"For some countries, the forum is the first time that health representatives and met services have had the chance to sit down together to discuss ways to improve climate information products and services."  
In most Pacific countries, increasing the systematic exchange of information between met and health services is a priority. 
Some examples of priorities identified in the forum include memorandums of understanding, exchanging focal points, outlooks and bulletins that include simple information on impacts in each sector, joint business plans, and technical working groups.
A draft statement on cyclones and climate and potential impacts on human health was also developed at a technical meeting.
The IFRC was among 20 agencies (full list, last paragraph) which supported the event.
Solomon Islands Red cross volunteers on an earlier door-to-door awareness campaign against dengue fever in Gizo, the capital of Western Province. The effort continued this year, when above-normal rainfall in some areas is thought to have increased mosquito breeding sites, contributing to dengue outbreaks. This and other health issues were high on the agenda at the third Pacific Islands Climate Outlook Forum held in Apia, Samoa. (Library photo: Benoit Matsha Carpentier/IFRC)