(Ex-)Hurricane Ophelia: a sign of things to come in a warmer world?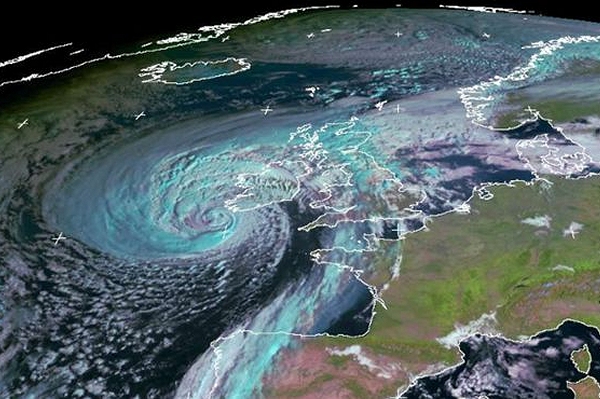 17 October 2017
The Irish Red Cross (IRC) late yesterday said its emergency crews remained on stand-by after Storm Ophelia swept across the country, causing the deaths of three people and widespread disruption.
News reports said 360,000 homes and businesses in the Irish Republic had lost electricity.
The Irish Meteorological Service said the highest reported wind was 191 kph at Fastnet Rock off the south-west coast, where the storm made landfall.
Ophelia arrived in Irish coastal waters Monday morning as an "ex-hurricane",  Met Eireann said, and spread across the country "with hurricane force gusts developing on the south-west coast."
'Patient transfers'
An IRC Facebook post Monday said the joint response centre for the Order of Malta Ambulance Corps, the IRC, and St John Ambulance Ireland had dealt with more than 20 calls for assistance from the authorities with moving patients and staff to safety.
"It is an excellent example of our organizations collaborating together to provide help and support to those that need it," the Irish National Society said.
IRC branches in Cork, Tipperary, Limerick, Waterford, Kilkenny, Clare and Laois had all been involved in "the biggest such deployment of IRC resources for actual patient transfers…in recent memory," it added.
In one incident, on the island of Cobh, in Cork city harbour, local IRC responders assisted a resident suffering breathing problems after ambulances were blocked by fallen trees.
Over the weekend, with Ophelia still at full hurricane strength out in the Atlantic, the IRC flagged the Irish Householders Guide to Major Emergencies.
On Saturday, with Ophelia at 26.6°W longitude, Philip Klotzbach, a meteorologist at Colorado State University specializing in hurricane forecasts, tweeted that this was the furthest east a major Atlantic hurricane had been recorded.
Red sun
"Some climate scientists who've looked at the data closely believe we could get more hurricanes hitting western Europe due to global warming," said Climate Centre Director Maarten van Aalst.
"A 2013 study that included our WWA colleague, Geert van Oldenburgh of the Royal Netherlands Meteorological Institute, for example, demonstrated that rising tropical Atlantic sea temperatures would extend eastwards what it called the 'breeding ground' of cyclones that could then reach Europe.
"Only this year, another study of the North Atlantic hypothesized that a future climate generally more favourable to tropical cyclones – a warmer one, that is – could push some storms east towards the western European seaboard.
"More work is needed, and probably more time will have to pass, before we can be sure. But hurricanes over western Europe may end up as a classic case of a 'rising risk' induced by climate change."
UK Met Office 'yellow warnings' for high winds remained in force early Tuesday for much of southern, central and eastern Scotland after Ophelia tracked out to sea to the north-east.
The Met Office also explained that the phenomenon of the red sun was caused by the remnants of Hurricane Ophelia dragging in air and dust from the Sahara that in turn scattered shorter-wavelength blue light, making the sun look red; debris from forest fires in Portugal and Spain also played a part.
"Ex-Hurricane Ophelia" about to make landfall in south-west Ireland earlier this week, captured by the University of Dundee Satellite Receiving Station. (Image: University of Dundee via BBC)