#IDDR2017 news: Address 'climate-related displacement' and help bounce back, says South Sudan S-G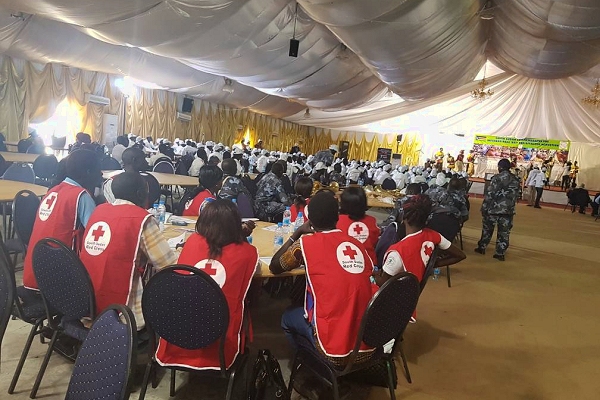 13 October 2017
(This story is the third in our series today marking the 2017 International Day for Disaster Reduction.)
John Lobor, Secretary General of the South Sudan Red Cross, at an event to mark International Day for Disaster Reduction (IDDR), today issued a strong call for more localized risk reduction. 
"We encourage approaches that reach the most vulnerable to disasters and climate change," he told the IDDR gathering in the capital, Juba, also attended by groups of South Sudan Red Cross volunteers (photo), as well as ICRC and IFRC delegates.
"We remain concerned that many national-level investments in disaster risk reduction and climate change may focus too much on national level and necessary infrastructure, without taking into account the communities that are the meant to benefit…
"While reaching communities is often seen as the 'last mile' in early-warning terms, for us it is so clearly the 'first mile' for effective disaster risk reduction and preparedness."
The theme of the Juba event was Home Safe Home – Make South Sudan a Safe home for all, and it included personnel from the Partners for Resilience (PfR) country agencies: the South Sudan Red Cross (SSRC), Cordaid, Wetlands International, and the Climate Centre. South Sudan joined PfR last year.
Anticipatory responses
IDDR-related activities in the run-up to the commemoration included a radio talk show and a three-day training for stakeholders on PfR's integrated risk management operating model that included local implementing partners and government officials.
Mr Lobor's remarks included a strong call to donors and partners to enable more anticipatory responses to community risks, including prioritizing early action for risk reduction, and addressing "climate-related displacement" by helping communities bounce back from climate impacts without leaving their homes and livelihoods in search of safer places.
PfR in South Sudan is working with stakeholders to promote climate-smart resilience and work integrated risk management into, for example, the management of wetlands. 
It's part of the implementation of the country's climate adaptation programme and is intended to put the needs of local communities at the centre of development planning.
Friday's Juba event was organized by the South Sudan Ministry of Humanitarian Affairs and Disaster Management in collaboration with UNISDR, UNDP and PfR.
Since last January, among other work, the ICRC has distributed food rations to over 450,000 people and seeds and tools to 277,000; the International Committee's surgical teams performed 2,800 operations and evacuated nearly 600 people wounded by weapons.
South Sudan Red Cross volunteers take part in an event to mark International Day for Disaster Reduction in Juba, jointly organized by the UN and the Partners for Resilience alliance country-team. (Photo: Shaban Mawanda/Climate Centre)