#IDDR2017 opinion: Could Bangladesh beat a 'new normal' in climate-related disaster?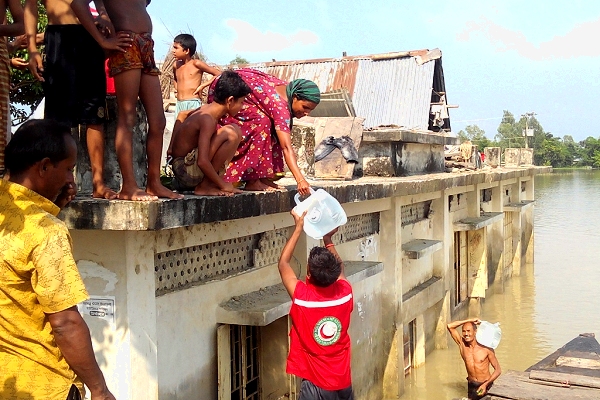 13 October 2017
(This article, written specially for International Day for Disaster Reduction, appeared first on the UNISDR website earlier this week. It's the first of a series of three today to mark #IDDR2017.)
That Bangladesh was relatively unlucky in this year's monsoon is surely a measure of just how much progress the South Asian country has made in the last 40 years or so in rolling back the human impacts of climate-related disaster – especially the cyclones that routinely pummel its Bay of Bengal coastline, bringing ever-higher storm surges as sea levels rise.
The ability of Red Crescent and other community volunteers to quickly move people out of harm's way has long been the stuff of risk-reduction legend.
Fewer than ten people were said to have died as a direct result of Cyclone Mora this year; a lower toll still than Roanu last year (although that is not completely comparing like with like, of course) and Komen the year before. And this is no way compares to the death toll in cyclones like Bhola in 1970, which claimed at least 300,000 lives.
But cyclones are predictable; they can be seen from space; and as often as not they move in a straight line before making landfall, generating odds for first-responders to bet with.
This year there was another factor in the South Asian monsoon that caused an overall loss of life in Bangladesh significantly greater than 2016 and 2015 put together: very intense rainfall.   
This is precisely what science tells us: that climate change is not only bringing higher sea levels, aggravating coastal risk in low-lying countries like Bangladesh, but also more intense rainfall.
Scientists working with the Intergovernmental Panel on Climate Change (IPCC), looking at data for India, have presented evidence that the frequency of atypically heavy precipitation is already increasing. While sea levels steadily rise, rainfall in South Asia could also be entering a 'new normal' as a result of climate change.
'Many older people are telling us these floods
are the worst they have ever seen
across many areas of Bangladesh'
The chief humanitarian consequence this year for Bangladesh will have been as dismaying as it was unpredictable. Landslides linked to the exceptionally heavy rain took the lives of some 150 people in several hilly parts of the country.
The landslide risk is, of course, exacerbated by unplanned urbanization. Individual landslides are all-but impossible to forecast in precise locations, making it much harder to get people and assets to safety.
We know the risk is there, and rising, but it's difficult to warn people days or even hours in advance, as we can, to some extent, with coastal storms.
Other factors are at play as well. "This year Chittagong Hill Tracts witnessed the worst landslides in living memory," Iftekhar Mahmud wrote in the Prothom Alo newspaper earlier this month ('Bangladesh sees sea change in climate').
He quoted a local climate researcher, Abu Sayeed, as saying temperatures were rising in the dry season: "This is cracking the earth…rain is increasing there during the monsoons, leading to landslides. And unplanned development is accelerating the incidence of landslides."
How can we respond?
Well, part of the answer must lie in reinforced search and rescue services that the UN has already been supporting, for example.
Having for all practical purposes conquered the storm risk to life and limb on the coasts, Bangladesh's volunteer corps, including the Red Crescent, may now have to refocus inland in this hugely populous deltaic nation.
The monsoon generated more exceptionalist language from professionals whose job it is to evaluate events in measured terms than any recent disaster I can think of. Mozharul Huq, the Secretary General of the Bangladesh Red Crescent Society said this: "Many older people are telling us these floods are the worst they have ever seen across many areas of Bangladesh and it's going to take years to recover."
For now, what we do know is generally where landslide risk exists. And we can do more to address those risks, including better use of land and planning of settlements, challenging though that is amid great population density and stark poverty.
In the future better observations and more advanced models, combining rainfall with local conditions, may provide pinpoint assessments of risk accurate enough to make evacuations 'rational'.
My hunch? Bangladeshis will find a way through this spike in the danger they face; and will, once again, set an example for the world in how to beat the risking risks of climate change. Science stands ready to assist.
Red Crescent volunteers pass safe drinking water up to people trapped on the roof of a school in northern Islampur district during monsoon floods last month. (Photo: Kamrul Hasan/BDRCS via IFRC)