#IDDR2017 blog: Meteorological information not all about 'bad news'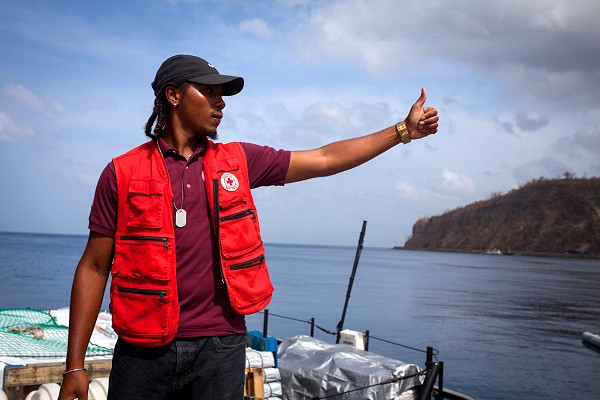 13 October 2017
(This blog, published for the International Day for Disaster Reduction, appeared first yesterday on the UK Met Office DRR website. It is the second in our series of three and has been edited here slightly for length.)
The Sendai Framework for Disaster Risk Reduction (DRR) helps guide our early warning, risk management and mitigation actions. However, even with the most sophisticated DRR systems in place, inevitably disasters will continue to strike.
As a result, the provision of both immediate and long-term humanitarian assistance will remain a prime focus for the global community. Sometimes the need is all too obvious.
In the recent Mexican earthquake we saw the rescue effort played out across our news channels, with the authorities bringing together a broad spectrum of relief agencies to help those in need.
On other occasions, the need may be less immediately clear, requiring expertise from a range of disciplines to help understand the impact or plan the response.
However, one factor which is common to many disasters either as direct impact, as a contributing, compounding factor or during the relief effort itself, is the weather, or more accurately its impact on the natural environment and those who either need help or are trying to deliver assistance.
So, is the weather factor something we should simply 'worry about'? Is it all about bad news, death and destruction? Or can we embrace this information to help provide a strategic advantage in our relief and response efforts?
Can we actually harness meteorological information to help set the tempo of any response and recovery work?
If we look at a previous post on the Met Office work with Save the Children, they have used poor-weather windows to enable their search and rescue ship to return to port, refuel and re-stock. This allows them to be back in position for the next period of good weather when boats full of desperate people are more likely to set sail.
Aid drops
During the recent crisis in the Caribbean a number of aid organizations took note of the forecast arrival of Hurricane Jose to re-prioritize their relief efforts. Maybe this slowed the immediate relief efforts post Irma, but we could argue that at least this approach helped reduce the impact of Jose.
The standard weather-forecast information isn't always enough. For example, the World Food Programme, during their aid drops into eastern Syria, used detailed atmospheric profile information to ensure aid reached the desired drop zone.
This information wouldn't have meant much to those who are used to receiving traditional forecasts, but in fact this type of specialized information helped keep over 100,000 people alive for at least 16 months – a great example of taking meteorological information and applying it to a new and more complex problem.
We can look back further to when the Met Office worked in partnership with our colleagues in south-east Europe to support the relief efforts of the UNHCR during the refugee crisis through the winter of 2015–16.
We may have started each day with generic discussions about the weather in the region, but these conversations were just the start of the 'what it means' conversations, as we tried to assess the impact of the weather on the ground and on the facilities along the tortuous 1,000-kilometre route.
Collaboration
In essence, what these examples demonstrate is that, to truly benefit from meteorological information, we need to enter what is commonly termed the 'impact' world.
Moving away from a weather forecast into the 'what it means' space, and developing an understanding of the role the weather can play, both positively and negatively, across the humanitarian response domain.
This is no easy task, requires partnership, patience, and for science (in all its domains, physical through to social) and development practitioners to find a common language and above all engender a spirit of collaboration.
At a recent UN meeting in New York discussing El Niño, some of the humanitarian organizations wanted to know what could be said 'six months out', as this would help catalyse discussions with donors to replenish those all important emergency response funds well ahead of any impact on the ground catalyse – an example of how we could put our meteorological knowledge to good use to better understand and mitigate the natural-hazard situation.
I know my colleagues in the World Meteorological Organization are also having energetic conversations with fellow UN agencies. Which means, I truly hope, with the coordination provided through our friends in UNISDR, that we can continue to work together to make a real difference in the humanitarian arena.
And finally, I leave you with one thought, the disaster risk management cycle usually talks about prevention, preparation, recovery and response. How about we add to this partnership, patience, collaboration, action?
The Dominica capital, Roseau, last month: Red Cross volunteer Timaeus Garraway helps unload the first relief arriving in the port to help people after Hurricane Maria. Donated by citizens and organizations from nearby Saint Lucia, it included tarpaulins, blankets, diapers and baby milk, while emergency-shelter kits and kitchen sets were on their way. The UK Met Office's Gavin Iley argues that good forecasts of successive hurricanes helped aid agencies prioritize their relief efforts. (Photo: Nina Svahn/Finnish Red Cross via IFRC)