PfR Kenya camel caravan advocates for Ewaso Ngiro conservation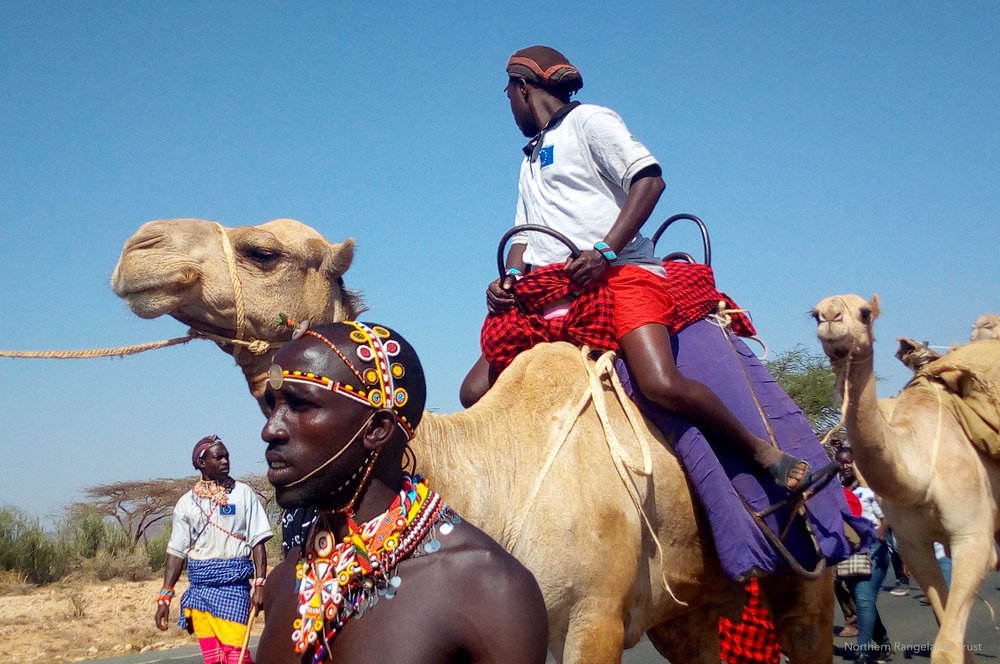 4 October 2017
(This story appeared first on Friday on the websites of Wetlands International and Partners for Resilience. It has been edited slightly here for length.)
On 15 September more than 200 participants from different counties concluded a five-day trek along the Ewaso Ngiro basin.
In the scorching sun the teams trekked 240 km from Merti county to Archer's Post, Isiolo county, in a week to raise awareness of issues affecting the Ewaso Ngiro River.
The campaign, Camel Caravan Walk 2017, saw six communities journey across the basin.
The teams made various stops along the way to promote and advocate for protection and restoration of Ewaso Ngiro river basin ecosystems and promote peaceful coexistence among the communities in Isiolo, Laikipia and Samburu counties who depend on this river.
The entourage made its grand entrance to Archer's Post, which was the final destination of the trek, at around midday to a colourful ceremony which brought together different stakeholders including local government.
Ecosystem
Speakers called for peace and prosperity among the communities living along the river basin.
The Merti Integrated Development Programme coordinator, Abdullahi Shandey, highlighted illegal sand harvesting, deforestation and huge development projects as key issues affecting the river.
However, he urged the communities to share the resources equally, enhance cooperation and collaboration between upstream and downstream users to mitigate the threats and not to fight over water or pasture, but safeguard and restore the ecosystem.
Abdullahi Khadija, 43, a pastoralist from Korbesa, also expressed his worries on the drying river.
According to Khadija, in the 1990s they had enough pasture and water for their animals as the river was flowing, but now their lives have changed: the river is drying and drought is rampant.
Arid lands
Organized in conjunction with the Partners for Resilience alliance in Kenya, the 2017 Camel Caravan provided a unique platform to lobby national and county governments for community participation, especially on infrastructural and communication projects such as the proposed Isiolo mega dam, resort city, and railway and oil pipelines, which will pass through the three counties.
The Ewaso Ngiro River, which is now on the verge of drying up, finds its source on the north-western slopes of the iconic Mount Kenya and Aberdare ranges, and flows through the arid and semi-arid lands of Laikipia, Samburu, Isiolo and Garissa counties.
It supports the livelihoods of approximately 3.6 million people.
More than 200 people from several Kenyan counties joined forces last month in a camel in the Ewaso Ngiro basin to urge greater efforts to conserve the shrinking river. (Photo: Northern Rangelands Trust via Facebook)