Volcanoes: the climate angle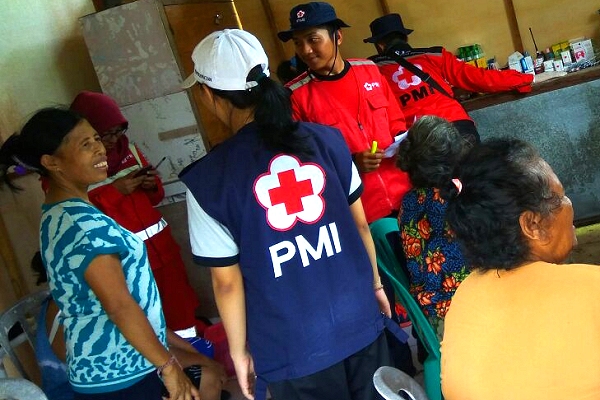 2 October 2017
The Red Cross is this week continuing to assist with two major operations to get thousands of people out of the way of active volcanoes.
The Indonesian island of Bali is in its highest state of alert after the Meteorological, Climatological and Geophysical Agency said an increase in seismic activity at the Mount Agung volcano suggested it could erupt.
The Indonesian Red Cross, known by its local acronym PMI, is helping some of the tens of thousands of people evacuated from within 12 kilometres of the mountain, also the island's highest.
When Mount Agung erupted most recently in 1963, nearly 2,000 people were reported to have died.
Several PMI branches including – with support from the IFRC country team in Jakarta – joined forces to help local authorities construct and maintain emergency shelters (photo) at three sites, and provide basic assistance to householders on the move.
Thousands of people were also preparing to leave their homes as the Manaro volcano on Vanuatu's Ambae Island continued to spew ash, smoke and rock from its crater, Gemma Snowdon of the New Zealand Red Cross reports.
The Vanuatu Red Cross Society (VRCS) is on the ground supporting the evacuation and response effort.
Sulphur
"People are on edge. They feel quite uncertain and afraid, with the constant rumbling going on," said Dickinson Tevi, a member of the VRCS team helping more than 7,000 evacuees after the government declared a state of emergency and raised the alert level to four out of a possible five.
"The whole island is unsafe, considering the level of volcanic activity that has been continuing for more than a week."
The Vanuatu authorities now plan to evacuate Ambae's entire population of more than 11,000 people to the neighbouring islands of Maewo, Pentecost and Santo.
People are leaving with few possessions and there's no way of knowing when they will be able to return home, Snowdon reports.
The IFRC last week issued two grants of humanitarian cash from its DREF fund for the National Societies involved in early action to prepare for these two volcano emergencies: US$ 170,000 for the PMI and more than US$ 260,000 for the VRCS.
Climate scientists, meanwhile, yesterday cautioned that with Mount Agung, especially, the potential exists for impacts worldwide if the volcano were to erupt on such as scale that enough dust, ash and sulphur was hurled into the stratosphere, where it can linger and affect the global climate.
This is what happened with Agung in 1963 and more recently with Mount Pinatubo in the Philippines in 1991 and El Chichon in Mexico in 1982.
Evacuation zones
Climate Centre Director Dr Maarten van Aalst recalled that one of the best-known historical examples took place a few hundred kilometres from Mount Agung when an even bigger eruption of the Mount Tambora volcano resulted in global impacts that included failed harvests in Europe and laundry freezing on the lines in summer in the US city of Boston.
This danger is seen as significantly less for Manaro, which is unlikely to release massive amounts of material into the stratosphere.
"It's important to emphasize that with neither of these volcanoes is an eruption certain," said Dr Van Aalst.
"Even if one did occur, it would have global climate impacts only if it crossed a certain threshold of magnitude, especially in terms of dust, ash and sulphur reaching the upper atmosphere.
"There's now no cause for concern outside the evacuation zones, but if there is a major eruption of Agung the Red Cross Red Crescent will urgently work with scientists to assess possible impacts. 
"Seasonal rainfall in key regions could be affected, for example, and with it food security and prices, as with mega-eruptions in the past."
Indonesian Red Cross volunteers providing health services to Agung evacuees at the Pasar Manggis centre this week. PMI branches – with support from the IFRC country team in Jakarta – have joined forces to help local authorities set up shelters and provide basic assistance to some of the tens of thousands of people now on the move for fear of a volcanic eruption. (Photo: PMI via Twitter)