International Red Cross emergency team deploying to devastated Dominica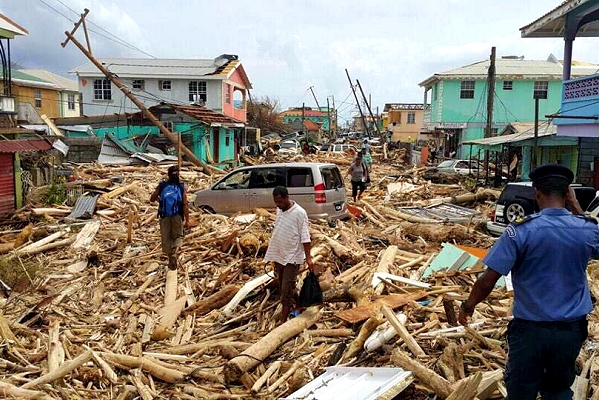 21 September 2017
(This story is a press release issued earlier today by the IFRC jointly in Panama City and Geneva.)
A global Red Cross emergency team is on its way to the Caribbean island of Dominica as reports from the ground indicate widespread damage in the wake of Hurricane Maria. The 12-person Field Assessment and Coordination Team (FACT) is made up of experts from around the world and will serve as a front line for Red Cross support to the battered island.
Maria made landfall on Dominica on 19 September, knocking out all communication.
"We managed to connect for the first time with our colleagues from Dominica Red Cross last night. Before then, it had been impossible to make contact," said Walter Cotte, IFRC Regional Director for the Americas. 
"The message from our colleagues was clear: there has been widespread damage, they need all the support we can provide."
'Major needs'
According to assessments by the Caribbean Disaster Emergency Management Agency (CDEMA), between 80-90 per cent of buildings have been damaged or destroyed. All of the country's crops have been devastated, and 75 per cent of the island's trees have been damaged or ripped out of the ground.
The hurricane also triggered landslides, cutting of roads and making access to rural communities difficult.
The IFRC has launched an international emergency appeal for just under 1.6 million Swiss francs to support initial relief efforts in Dominica, focusing on shelter, water and sanitation, and broader health.
As further, detailed assessments come in over the coming days, the amount and scope of the appeal may change and expand.
"We are anticipating major needs across the island. People are going to need water, basic sanitation, food, health care – everything.
"The Dominica Red Cross, together with the support team we have sent, will join the government of Dominica in efforts to help the island recover," said Mr Cotte.
This extraordinary shot of post-Maria destruction in Dominica by the Caribbean Disaster Emergency Management Agency was tweeted by the IFRC on Friday. (Photo: CDEMA via IFRC)