UN agencies combine to blame conflict and 'climate-related shocks' for first spike in global hunger in a decade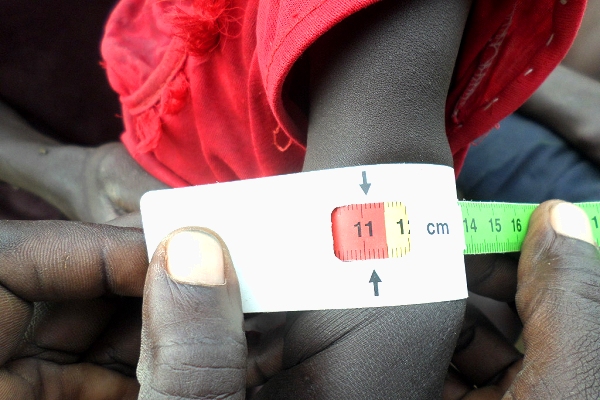 18 September 2017
For the first time five United Nations agencies have joined forces to compile a new edition of the annual UN report on world food-security and nutrition, which was released on Friday.
They say that after declining for more than a decade, global hunger is now on the rise again – affecting more than 800 million people last year or 11 per cent of humanity.
At the same time, different kinds of malnutrition are threatening the health of millions worldwide, according to The State of Food Security and Nutrition in the World 2017.
"The increase – 38 million more people than [2016] – is largely due to the proliferation of violent conflicts and climate-related shocks," says the report, which was prepared jointly by five UN agencies.
The 2017 report is the first since the adoption of the global agenda that aims to end hunger and all forms of malnutrition by 2030 as a priority of international policy.
The collaboration by the five agencies reflects a "broader view on hunger and all forms of malnutrition," a news release said, while the report now includes "enhanced metrics for quantifying and assessing hunger, including two indicators on food insecurity and six indicators on nutrition."
UNICEF and the World Health Organization (WHO) joined the traditional partnership of the UN Food and Agriculture Organization (FAO), the International Fund for Agricultural Development (IFAD), and the World Food Programme (WFP) in preparing the report. 
  'Alarm bells we cannot afford to ignore'
Among the report's key messages is the point that, "Much of the recent increase in food insecurity can be traced to the greater number of conflicts, often exacerbated by climate-related shocks."
It argues that "concurrence of conflict and climate-related natural disasters is likely to increase with climate change, as climate change not only magnifies problems of food insecurity and nutrition, but can also contribute to a further downward spiral into conflict, protracted crisis and continued fragility."
In a table, the report lists ten countries and the specific climate or weather events that it says have affected food security in them, with the 2015–16 El Niño playing a role in four: Afghanistan, Burundi, the Central African Republic, the Democratic Republic of the Congo, Iraq, Somalia, South Sudan, Sudan, Syria and Yemen.
Iraq and Syria were both adversely affected by drought in 2016, says the report, which adds: "Severe drought is among the factors that may have contributed to food insecurity and civil war in the Syrian Arab Republic…"
Obesity and anaemia
"Over the past decade, conflicts have risen dramatically in number and become more complex and intractable in nature," say the agency chiefs in a joint foreword.  
"This has set off alarm bells we cannot afford to ignore: we will not end hunger and all forms of malnutrition by 2030 unless we address all the factors that undermine food security and nutrition," they add. "Securing peaceful and inclusive societies is a necessary condition to that end."
The UN agencies report that 155 million under fives are too short for their age, while the weight of more than 50 million is too low for their height.
Just over 40 million children, meanwhile, are now estimated to be overweight, while adult obesity and anaemia among women are also cause for concern.
"These trends are a consequence not only of conflict and climate change but also of sweeping changes in dietary habits as well as economic slowdowns," the UN statement says. 
But even in regions that are more peaceful, it adds, "droughts or floods linked in part to the El Niño weather phenomenon, as well as the global economic slowdown, have also seen food security and nutrition deteriorate".
A child in South Sudan being assessed. It's one of ten countries where the UN this year attributes a deterioration in food security to specific weather and climate impacts, including El Niño. The photo illustrates the digital version of The State of Food Security and Nutrition in the World 2017. (Libraray photo: FAO/Francis Muana)