IPCC agrees outlines for next climate assessment with 'stronger focus on risks and solutions'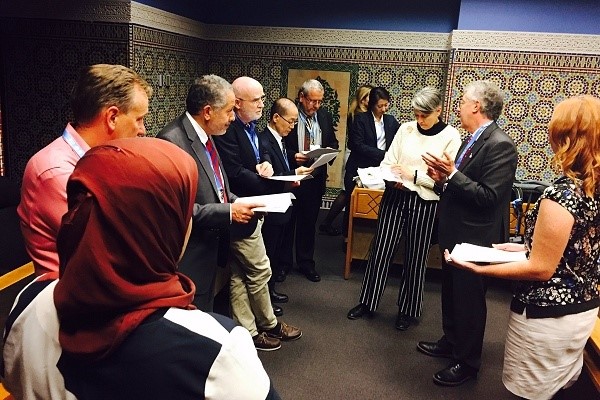 12 September 2017
The Intergovernmental Panel on Climate Change (IPCC), meeting in Montreal, last week finalized the outline of its next scientific assessment of climate change, its sixth, 'AR6', due to be completed in 2022.
The IPCC's assessments are a cornerstone for international climate policy, and also used by many governments in, for instance, preparing national adaptation plans.
"The agreed outline combines scientific expertise across a range of disciplines with policy-makers' priorities," said IPCC Chair Hoesung Lee.
"It will allow IPCC authors to prepare a comprehensive, balanced and objective assessment of our knowledge of climate change that is relevant to policy-makers at all levels and in all regions," said IPCC Chair Hoesung Lee.
The draft outlines for the three IPCC working groups – on science, impacts and adaptation, and mitigation – were scoped in May in Addis Ababa; at the Montreal session, the IPCC's 195 member governments agreed final versions.
Observers see a stronger emphasis in the outline for Working Group II on risk – mentioned 40 times, many more than in AR5 several years ago.
Decision-making
Climate Centre Director Dr Maarten van Aalst – an IPCC author in the previous assessment cycle and a scientific contributor at the Addis session – welcomed the approved outlines, announced on Sunday.
"For the humanitarian sector," he explained, "it's extremely helpful that these assessments are adopting a perspective on risk that looks at both average conditions and extreme events, and also considers people's vulnerability and exposure.
"This is reflected not just in Working Group II but also in the Working Group I outline, which addresses the physical science, and is now aiming for a much stronger 'handshake', as it's known, with experts looking at impacts and adaptation."
The WGI outline also includes a separate chapter on extremes.
Dr Van Aalst said a planned WGII chapter about decision-making on risk will be particularly relevant to Red Cross Red Crescent experience on the ground, as well as national and international policy.
The IPCC process has also been informed by April's International Conference on Climate Risk Management (ICCRM), hosted by the Kenya Red Cross Society in Nairobi and jointly convened by the Climate Centre and the IPCC.
It was attended by both co-chairs of Working Group II, Dr Debra Roberts of South Africa and Dr Hans-Otto Pörtner of Germany, who presided over the Working Group II approval session this week in Montreal.
Dr Roberts said in Nairobi that the 'IPCC 2.0' concept of scientific assessment centred on reducing risk was "about assessing the solutions that will help us improve people's lives and protect critical ecosystems".
'Diverse evidence'
The plans for AR6 show a generally stronger focus on risks and solutions across timescales, Dr Van Aalst said.
"This includes what the future may look like, depending not only on what happens with emissions but also on how we manage risk through, for example, better early warnings of extreme events.
He emphasized that the IFRC and its specialist Climate Centre will continue to support the IPCC process.
"We are committed to contributing to the peer-reviewed knowledge base the IPCC is assessing through our academic papers, recently for example on heatwaves, forecast-based financing, social protection ahead of shocks, geo-engineering and attribution.
This also includes our knowledge-management role in programmes like BRACED and engagement in research programmes such as SHEAR, CARIAA and PLACARD.
"We'll also help strengthen links between science, policy and practice with events like the ICCRM, and outreach on IPCC products like the 2012 SREX report and the 2015 Fifth Assessment Report, focused on the world's most vulnerable regions.
The Stanford Woods Institute for the Environment, meanwhile, cites IPCC assessments as an example of "an organized process for evaluating the state of knowledge on issues relevant to decision-making".
In a research brief this summer that highlighted the Climate Centre's interactive games exploring decisions about risks, Stanford Woods researchers say "a focus on risk has supported integration of diverse evidence responsive to uncertainties and contested priorities."
IPCC experts gather before their news conference in Montreal on Sunday. They finalized outlines for the next scientific assessment of climate change, 'AR6', due to be completed in 2022. (Photo: IPCC via Twitter)