'Our worst fears have played out in Barbuda and elsewhere'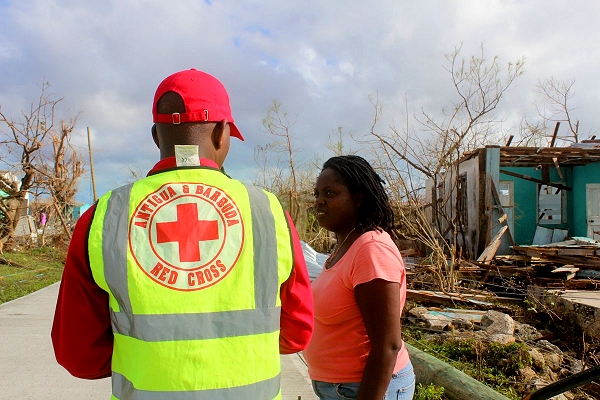 8 September 2017
(This story is an IFRC press release issued yesterday in Geneva and Panama City. The International Federation also issued a new information bulletin today, which includes a link to the Netherlands Red Cross Safe and Well website launched on Wednesday to facilitate communication among people affected by disaster.)         
The strongest Atlantic hurricane in more than a decade may have already battered an estimated 1.2 million people and poses a serious threat to millions more. At least ten people are believed to have been killed.
Category 5 Hurricane Irma has cut a swath of destruction through half a dozen Caribbean nations and foreign territories in the past 24–36 hours.
Reports from Barbuda suggest that nearly every building has been damaged or destroyed, while hundreds of thousands of people in Puerto Rico are without power according to authorities. Further reports of destruction have been received from the British Virgin Islands and Anguilla, as well as Saint Martin and St Barts (Saint Barthelemy), and St Kitts and Nevis.
"Our worst fears have played put in Barbuda and elsewhere," said Walter Cotte, IFRC Director for the Americas.
"Our volunteers have been active for a number of days helping communities prepare.
"We can't yet assess the full extent of damage, but we expect that the Red Cross will be delivering extensive support to many thousands over the coming weeks and months."
First hours
Irma is now bearing down on the Dominican Republic, Haiti and Cuba where an estimated 26 million people could be exposed to destructive winds and torrential rain.
In preparation for Irma's passage, the IFRC has released just under 600,000 Swiss francs from its Disaster Relief Emergency Fund to bolster preparedness and early response efforts in the Dominican Republic and in Haiti.
This complements earlier allocations of about 120,000 Swiss francs for Antigua and Barbuda and St Kitts and Nevis.
These funds will allow Red Cross volunteers and humanitarian workers already on the ground to help communities evacuate, prepare, and face the first hours after the storm has passed.
Extensive preparedness efforts are also underway in Cuba.
'Multi-country response'
In addition to financial resources, IFRC and National Red Cross Societies from the region, and from countries with territories in Irma's path have deployed disaster response experts throughout the Caribbean, and have placed assets including medical emergency response units on standby.
"People across the Caribbean will need our help to withstand and then recover from this storm," said Mr Cotte.
"We're already preparing what could become a massive and multi-country response effort.
"The Red Cross was there before Irma hit, and will be there well after it has passed."
                                                                                         *
Irma and other recent storms fit what we generally expect with a warmer climate: the most intense storms getting even more extreme, even in the absence of changes in overall frequency, writes Climate Centre Director Dr Maarten van Aalst.



With Harvey we got the heaviest rainfall ever recorded in a single event over the continental US; now Irma's winds are the strongest ever for a storm in the Atlantic outside the Caribbean and the Gulf of Mexico.



Higher sea-levels worldwide, with significant local variations, are also known to be causing more destructive storm surges – a major concern for humanitarian agencies working with vulnerable coastal communities.



US scientists put the average rise in sea levels near Puerto Rico, for example, at fractionally over 2 millimetres a year, based on data going back to the early 1960s.



And we are getting more surprises too.



Tropical Storm Arlene earlier this year, which luckily never made landfall and stayed out in mid-Atlantic, was one of only two to form as early as April, and the most northerly so early in the 'regular' hurricane season that would usually start on 1 June.
Antigua and Barbuda Red Cross volunteers out in the community after Hurricane Irma smashed through the dual-island nation. The American Red Cross said it was mounting a massive response as the "historic and powerful" storm headed for Florida. (Photo: @IFRC_es via Twitter)