New study centres on Red Cross partnership-building for flood resilience in Dar es Salaam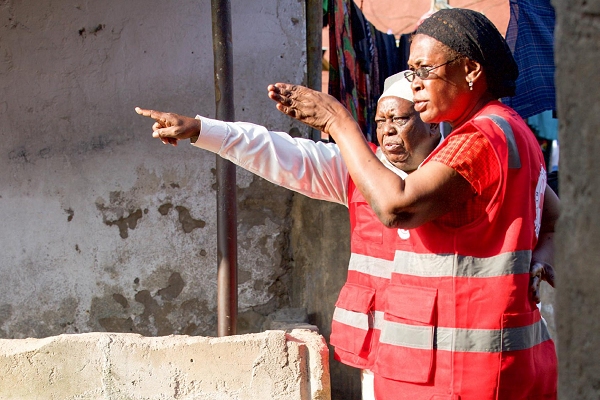 6 September 2017
A case study published recently by the Global Disaster Preparedness Center (GDPC) highlights partnership aspects of the inter-agency programme for flood resilience in the Tanzanian commercial capital, Dar es Salaam, that ended a year ago.
It offers lessons and insights from the Tanzanian government, the Red Cross and many other agencies who took part in the programme, which was supported by the World Bank and the American and Danish Red Cross.
The case study – containing a full list of partners that includes the Climate Centre – is available from the website of the GDPC, an IFRC reference centre hosted by the American Red Cross; the site also contains links to a set of explanatory videos.
The focus on partnership is intended to support the IFRC's One Billion Coalition for Resilience – '1BC' – while the history of collaboration among community-level stakeholders will highlight both "enabling factors and obstacles to local coalition-building", the GDPC website says.
It's hoped this will facilitate "local-level action in alignment with municipal and city-level planning".
Consensus
The study itself quotes the Disaster Management Coordinator of Dar es Salaam's Kinondoni municipality, Adelaida Joyce Kangaruki, as saying her mandate was "to minimize the risks of disasters to occur, by ensuring the communities and the municipality [were] equipped with right tools and mechanisms."
With floods "a major disaster" locally, she said, "it was the duty of [Dar es Salaam's] municipalities to ensure…communities were well prepared and victims of the floods assisted."
Dar es Salaam and its informal settlements, whose streets often clogged with garbage, have been prone to regular flooding and saw various flood disasters in the past decade.
In April 2014, for example, three days of heavy rain led to extensive flooding throughout the city, leaving 19 people dead and some 20,000 displaced.
But the consensus is that many of the worst impacts could be prevented by well-coordinated institutional and community approaches.
'Open mapping'
The government's Commission of Science and Technology originally asked for international support to understand the dynamics of flooding.
In response, the World Bank supported a community-based flood-mapping innovation called Ramani Huria (Swahili for 'open mapping').
This began by training university students and residents, who were often Red Cross volunteers, to create highly accurate maps of the most flood-prone areas of the city.
Through the related Zuia Mafuriko ('prevent flooding') project, the Red Cross societies and the bank recruited a consortium of partners with a common vision of how to reduce the impacts of flood disasters in the city, and increase general flood resilience.
                                                                                            *
Fatima Ramadhan, 41, plans to work hard and is determined to make it in Dar es Salaam, writes Red Cross reporter Nancy Okwengu.
Fatima moved there from the city of Morogoro, 270 kilometres to the west, more than two decades ago to seek better opportunities, but she found access to basic amenities such as food and schooling even harder when floods hit.
"It is like life stands still and one is unable to move freely or safely without the risk of drowning," she says.
"When it floods the children can't go to school. I can't go to my business. Our lives stop."
Fatima who sells homemade juice by the roadside becomes dependent on others when there's flooding, of which one consequence is often a cholera outbreak that shuts down roadside vendors.
The Zuia Mafuriko/Ramani Huria project has supported her community in Ilala and Kinondoni wards by establishing preparedness and response actions.
"Controlling the floods has offered me a more stable and predictable life," she says.
"My children can go to school and achieve their dreams. I can run my business and also pay my loan in good time."
There is still so much to do, like lobbying local decision-makers and increasing the number of volunteers, but these communities are willing to do things one step at a time to build a better future.
Tanzanian Red Cross volunteers from the Zuia Mafuriko programme. The image features on the cover of a new case study highlighting partnership aspects of the inter-agency programme for flood resilience in Dar es Salaam. (Photo: GDPC)