Unprecedented floods, apocalyptic language. And climate science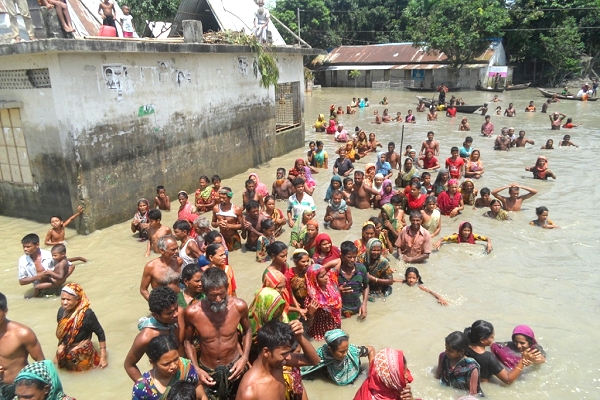 30 August 2017
'Hurricane Harvey and the inevitable question of climate change' ran the headline in the Washington Post yesterday; the article itself and the question were probably equally inevitable.
And natural: as every high-school student taking physics knows, the warmer air is the more water it can hold.
Perhaps after heatwaves, torrential rain is one of the most intuitively understood potential impacts of climate change, or 'global warming'.
Quite rightly, the media in South Asia and the US state of Texas are reporting the testimony of people affected by these near-cataclysmic disasters.
                                                'Catastrophic, unprecedented, epic'
Last week, the IFRC's Raqibul Alam quoted a 25-year-old Bangladeshi survivor of the floods, Beauty Beowa, who had lost all her livestock, as saying she had "never seen so much water in my life".
Beauty's immediate concern, as a widow, was to feed her family.
Raqibul himself called the floods "the biggest in decades", in a nation well used to massive inundations from river or sea.
On the other side of the world in Houston, Texas, the adjectives attributed to the US National Weather Service in describing Harvey and the flood it unleashed were also apocalyptic: "catastrophic, unprecedented, epic", in just one account.
Even coming from the NWS, these are not scientific observations and are not meant to be; they are impressions, and no less real for that.
But what of climate science itself?
One thing applies to all disasters: they are a combination of a natural event and the exposure and vulnerability of people.
The precise risks we face are the product of where we choose, or are able, to live, and how we manage risk generally over time.
Intense monsoons?
Zooming in on disasters, we must start with the familiar caveat: no single event, almost whatever its magnitude, is directly 'caused' by climate change.
What matters are changes in averages over time – the odds of a particular event occurring, that is: here we can sometimes assess how climate is affecting extremes, as in the dramatically increasing risk of heatwaves or the Louisiana floods last year.
Such analyses take time, but there is something we can say about the general trends in the likelihood of similar events to those in Texas and, firstly, South Asia.
Scientists working with the Intergovernmental Panel on Climate Change, looking at data for more than the past half century for India, believe they have evidence that the frequency of "heavy precipitation events" – intense downpours – is increasing.
More generally in South Asia, climate models show that climate change is likely to lead to a more intense monsoon over land due to air there warming more than air over sea.
'Climate attribution'
With hurricanes in the western hemisphere, we're very careful about saying anything on changes in the mere frequency of such events, but there are indications of possible changes – for the worse – in the intensity of the associated rainfall, the key impact in Houston.
In addition, storm surges associated with hurricanes are exacerbated by higher sea levels – as clearly established a climate impact as we have. (A recent example was Bangladesh with Cyclone Mora.)
To say more we'll need to wait for 'climate attribution' studies that involve crunching data; and our colleagues are already hard at work.
But what we can say now is that both Hurricane Harvey and the monsoon floods are entirely consistent with what we would expect in a warmer world, and that ought to be more than enough to worry us.
It is difficult to imagine more compelling images of mass exposure and vulnerability than those which have emerged from South Asia over the past few weeks. Here flood-affected people from the Bangladeshi village of Islampur collect Red Crescent relief. (Photo: Kamrul Hasan/Bangladesh Red Crescent via IFRC)