Togolese Red Cross launches water-purification drive after FbF 'trigger' alert from dam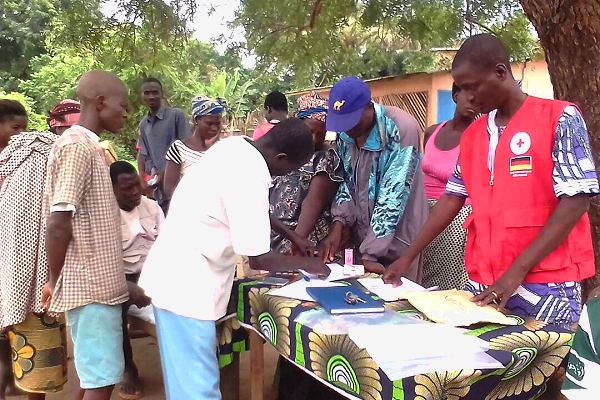 25 August 2017
After heavy seasonal rainfall the Togolese Red Cross (TRC) this week began distributing 'Aquatabs' – water purification tablets – as a cholera-prevention measure in villages downstream from the Nangbeto dam on the Mono river, part of which forms the international border with Benin.
Dam operators are alerting the TRC and the government about how much water they are discharging every day, and the Red Cross has also been distributing waterproof plastic bags to preserve important family documents, and helped to relay official warnings though their own radio spots.
The TRC is covering just under 2,000 'first tier' at-risk households in the riverside villages of Togbodji and Gbandi in Lower Mono prefecture – each getting 30 Aquatabs, enough for 600 litres of drinking water. 
'The Red Cross found the right moment to come to our aid'
"Our water gets dirty when the Mono rises," a Gbandi beneficiary, Afi, told local blogger Herve Le Prince.
"This is what we drink and what we do our laundry in. But with these products that the Red Cross is here to provide, for the moment we have drinking water."
In Togbodji, another Red Cross beneficiary, Kodjo, said they first heard on the radio that water would be discharged by the dam and become difficult to drink. 
"It has to be said that the Red Cross found the right moment to come to our aid," he added.
The Togolese Red Cross assistance was provided as part of the local forecast-based financing (FbF) programme supported by the German government and Red Cross.
Observations
Operational FbF was triggered for the first time in Togo almost exactly a year ago, when coordination between the Red Cross and dam operators enabled volunteers to carry out a similar distribution of water-purification tablets a full week ahead of a seasonal flood partly managed by the dam.
This cooperation is now formalized in an agreement between the Togo Red Cross and the Communaute Electrique du Benin – the parent company of the dam that's co-owned with Togo.
The Red Cross has also been helping to refine the 'FUNES' digital tool developed with support from the World Bank that incorporates upstream river-level observations by trained Red Cross volunteers.
Early warning early action in Togo: the Red Cross distributing water purification tablets as a cholera-prevention measure in villages downstream from the Nangbeto dam. (Photo: TRC)