From the Philippines to Haiti: expanding the 'Y-Adapt' global community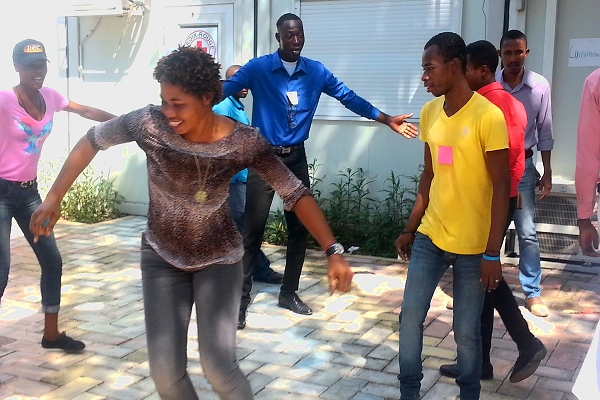 18 August 2017
A three-day 'training of trainers' workshop at a Haitian Red Cross (HRC) centre in Port-au-Prince was held late last month – generating a national group of 30 facilitators for the new Y-Adapt programme centred on youth-led climate adaptation.
The session (see b-roll video) was organized and supported by the Haiti country team of the Partners for Resilience alliance, launching a trajectory focused on engaging young people in its approach that centres on integrated risk management.
Originally developed in the Philippines in partnership with the Philippine Red Cross, Plan International, US-based Emerson College's Engagement Lab and the Climate Centre, the Port-au-Prince sessions were designed in a participatory process involving hundreds of young people in both urban and rural areas of the Philippines.
Y-Adapt comprises games-based sessions engaging young people in developing their own strategies for climate adaptation and advocacy in communities.
Taster workshop
Plans are underway for Y-Adapt to be rolled out in HRC branches, and discussions are being held with Haiti's Ministry of Education for it to support school curricula and be customized with information from national adaptation planning.
The French-language version, known as 'J'Adapte' – Jeunesse Adapte', was embraced by young people from the HRC Nippes branch on the north coast of the country's southern peninsula, who took part in a Y-Adapt taster workshop (see b-roll video).
The HRC youngsters, whose motto is Do More, Do Better, Go Further, explored success stories from youth-led climate adaptation worldwide while thinking about the relevance for their own communities in Haiti (see gallery from both locations). 
Newly trained Haitian Red Cross J'Adapte facilitators practice running the Greenhouse Gas Game in the final stage of the three-day training of trainers as part of the Y-Adapt programme. (Photo: Brigitte Rudram/Climate Centre)